The head of Airbus Helicopters in Germany has warned the country's government that it is running out of time to opt in to the Tiger MkIII upgrade programme alongside France and Spain.
Describing the current situation as "embarrassing", Dr Wolfgang Schoder, managing director of Donauworth-based Airbus Helicopters Deutschland, says he nonetheless remains hopeful that "Germany will take the very good decision to join".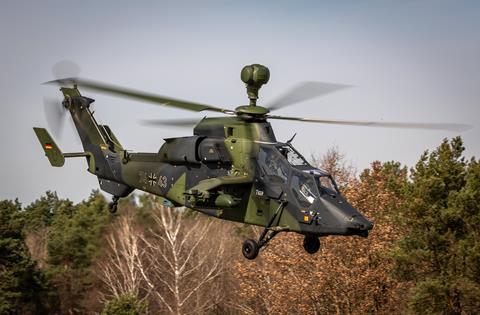 However, he notes that the "longer it takes" to reach that point "the more difficult it will be to enter into it".
France and Spain launched the MkIII upgrade in March this year following a contract between procurement body OCCAR and Airbus Helicopters.
Provisions in that agreement give Germany until the end of the summer to decide on its participation. Although it will still be able to join after that point, the terms of the agreement will change.
Schoder questions the cost-effectiveness of alternatives to the Tiger upgrade, notably Germany's professed interest in the Boeing AH-64E Apache.
He says the MkIII effort will target three key areas of concern: address obsolescence issues; tackle low availability rates; and modernise the Tiger's weapons and sensors.
"It hits all three targets we want to hit and the development costs for that are divided by three nations.
"Economically for me it is a better solution – I can only push for that; I'm 100% sure it will be less costly than a fleet of Apaches," he says.
Airbus Helicopters has already begun a project alongside the German army to improve the rotorcraft's availability rate over the next two years, "and we are well on track to achieve that", Schoder adds.
Germany's absence from the modernisation effort would also be worrying from an industrial perspective, he says. "If we don't participate in Tiger MkIII then Donauworth loses competence in the heavy attack [helicopter] segment. This is concerning for me."
Military production at Donauworth is now largely focused on the Sea Lion and Sea Tiger variants of the NH Industries NH90 for the German navy, and the H145M light-twin for a growing international customer base.
Airbus Helicopters on 24 June announced that it had secured a six-unit order from Cyprus for armed H145Ms, plus six options, and is also maneuvering to win a substantial commitment of up to 55 examples from Germany under the LUH SK programme.
Schoder is positive of receiving additional orders for the H145M from customers "in Europe and outside Europe", he adds.
"We are really confident and we have a huge challenge to get the supply chain to ramp up so we can produce as many H145s as we can sell," he adds.
Combined civil and military output of the 3.8t helicopter currently sits at a little under 80 per year, says Schoder, with the Donauworth plant also building around 40 H135s annually. Previously the factory has assembled up to 160 helicopters, he says, "so we have an easy margin of 40 more helicopters per year".

Dominic Perry is deputy editor of Flight International but also contributes extensively to flightglobal.com. Although specialising in the coverage of the helicopter industry, he has written on most topics in aerospace – be they commercial, defence or business aviation. In addition, there has been an increasing focus on the decarbonisation of the industry and zero-emission flight initiatives.
View full Profile