France has now accumulated more than 240 flight hours across 160 sorties with the VSR-700 unmanned air vehicle (UAV) demonstrator developed by Airbus Helicopters, as it prepares for its final series of shipborne tests later this year.
Revealing the milestone on 27 January, the French DGA defence procurement agency said the most recent test campaign took place in December 2022.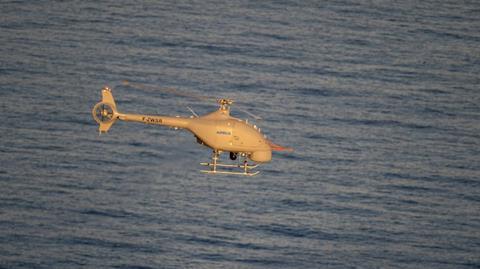 Conducted at the DGA's missile test site on the Ile du Levant off the southern coast of France, the trials were designed to evaluate the VSR-700's performance during overwater flights.
Evaluations ran from 7-15 December and consisted of nine flights totalling 9h. Over 25 engineers from across the DGA's departments participated in the effort, including those from its Essais en vol flight-test unit. Staff from Airbus Helicopters, Naval Group and radar provider DIADES also contributed.
Based on a Guimbal Cabri G2 airframe, the VSR-700 has been taking part in a risk-reduction study for the French navy's SDAM UAV programme.
Designed to fly for up to 8h, carrying two main payloads, the VSR-700 should also be capable of taking off and landing from a ship in conditions up to sea-state 5.
A previous round of testing in March 2022, consisting of 130 landings on a civilian vessel, validated the performance of the autonomous systems. This will be followed later this year by another flight-test campaign aboard a French navy frigate.
"These future tests will close the risk removal phase of the SDAM programme, making it possible to envisage its launch in production," says the DGA.
Speaking to reporters on 25 January, Bruno Even, chief executive of Airbus Helicopters, said that the airframer was "fully ready to perform the sea demo with the French navy by the end of the first quarter".
The next step, he says, will be to "secure the future of the SDAM programme" as part of the next LPM military spending plan currently being finalised by the French government.
"We strongly believe in the future of this programme. You see that one of the lessons from the war in Ukraine is the importance of drones in the future," he says.
Airbus Helicopters is "committed" to the market and sees a contract from the French navy as key to opening the potential for export sales.

Dominic Perry is deputy editor of Flight International but also contributes extensively to flightglobal.com. Although specialising in the coverage of the helicopter industry, he has written on most topics in aerospace – be they commercial, defence or business aviation. In addition, there has been an increasing focus on the decarbonisation of the industry and zero-emission flight initiatives.
View full Profile