Defiant X, the coaxial-rotor helicopter jointly designed by Sikorsky and Boeing, has completed a 700nm (1,296km) test flight from Sikorsky's test flight centre in West Palm Beach, Florida to Nashville, Tennessee.
The flight was made ahead of the upcoming Army Aviation Association of America (AAAA) 2022 summit, happening in Nashville from 3-5 April, where the aircraft will be on display.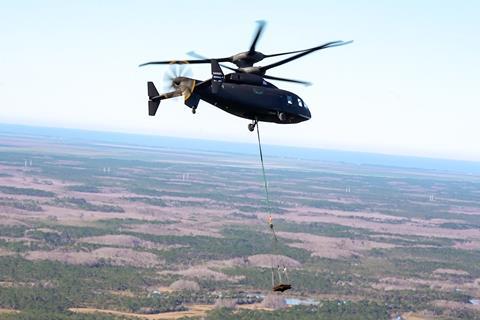 The flight, which included refuelling stops and 7h of continuous engine operation, was the first time Defiant X made an out-of-state flight, according to Sikorsky.
"It really behaved flawlessly. There were no issues," said Sikorsky president Paul Lemmo during a media roundtable following the flight. Sikorsky is a Lockheed Martin subsidiary.
Lemmo notes that the endurance flight is just the latest in a series of technical accomplishments for the Defiant X platform. In recent weeks, the team also successfully conducted a confined space landing, achieved high-speed flight up to 247kt (457km/h), carried a 1,542kg (3,400lb) external load (known as a sling-load in army parlance), and completed a slalom course with 60° banked turns.
Defiant X has two vertically stacked main rotors (known as coaxial) to generate lift and counter-rotational force, with a rear-mounted propulsor for higher in-flight airspeed. It uses two Honeywell HTS7500 engines.
Defiant X is being developed for the US Army's Future Long Range Assault Aircraft (FLRAA) programme, which will ultimately deliver a replacement for the venerable Sikorsky UH-60 Black Hawk that has been in service with the army since 1978. Black Hawk variants perform a variety of missions including troop movement, logistics support, medical evacuation and command-and-control.
Bell has also submitted its V-280 Valor tilt-rotor design for the FLRAA competition. The army is expected to announce its selection in the contest sometime in summer 2022.
Lemmo says Sikorsky and Boeing already have infrastructure needed to begin producing Defiant X. He argues that lack of build out will produce cost savings over the life cycle of the aircraft.
Mark Cherry, vice-president and general manager for vertical lift at Boeing, says the group is "extremely confident" in Defiant's competitiveness on cost and technical factors.
"This is the right aircraft to satisfy the army's needs, now and into the future," Cherry says.
He also notes Boeing and Sikorsky provide 90% of the US Army's current rotary wing fleet.