European regulators have approved two performance improvement packages for the Leonardo Helicopters AW169, boosting the medium-twin's payload in several operating conditions.
The 'Enhanced' performance pack will become the baseline for new-build helicopters, while the 'Superior' pack will be available as an option. Certain of the enhancements will also be available as a retrofit, providing the helicopter's software is to the phase 6 standard.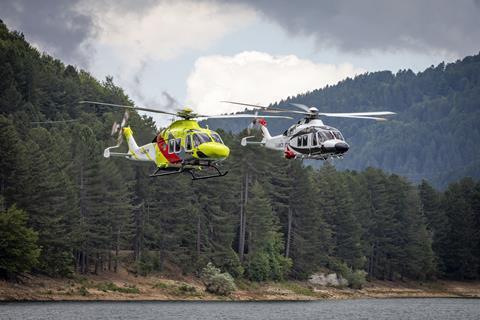 Certification for the changes was granted on 22 December 2021, with the European Union Aviation Safety Agency (EASA) updating its records on 12 January.
Both performance packs comprise an engine shaft horsepower increase, an enhanced transmission rating, software modifications to the FADEC on the AW169's Pratt & Whitney Canada PW210A engines and to the helicopter's avionics, plus changes to the tail structure.
Power available at take-off increases by 90shp (67kW) and 130shp under the Enhanced and Superior packages, respectively, from a baseline of 874shp. Combined with the higher transmission ratings, Leonardo says this provides the 4,800kg (10,600lb) maximum take-off weight AW169 with "the best-in-class power-to-weight ratio".
Changes to the design of the tail – originally introduced on the skid-equipped version – are also incorporated in the upgrade in order to "maximise the advantage of the extra power available". These consist of an airflow deflector on the right-hand-side of the tail cone, and reshaped winglets on the horizontal stabliser, which are also manufactured from a new material.
Both packages provide payload increases across several operating conditions: in hover out of ground effect (HOGE) flight, it rises by 300kg/350kg (Enhanced/Superior); at Cat A take-off power by 250kg/300kg; and in HOGE with one engine inoperative by 130kg/160kg.
Enhancements available via retrofit are limited to the software updates and modifications to the tail, Leonardo Helicopters says. The work can be accomplished over several days at operator facilities, it adds.