Airbus Helicopters has secured European certification for a new alternate gross weight (AGW) on the H135 light-twin, which increases maximum take-off weight to 3,100kg.
The modification is applicable to any H135 equipped with the manufacturer's Helionix avionics suite.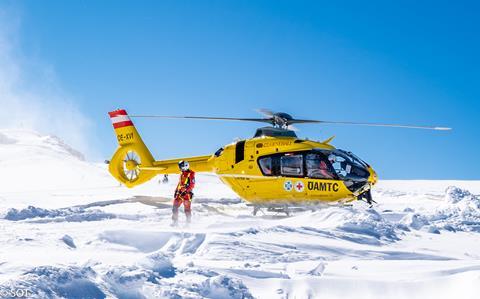 European Union Aviation Safety Agency (EASA) documents list the previous maximum take-off weight as 2,980kg.
The AGW allows operators to extend range by up to 75nm (140km) or endurance by as much as 40min, says the airframer.
H135s are equipped with either Safran Helicopter Engines Arrius 2B2 or Pratt & Whitney Canada PW206B3 engines. The AGW is applicable to both variants.
In addition, Airbus Helicopters recently certificated a new single pilot instrument flight rules Helionix cockpit for the H135.
This gives operator the option of removing the co-pilot's side of the instrument panel to increase the field of view, or to retain it in order to install specific equipment under supplemental type certification.
Separately, Austrian operator OAMTC Air Rescue has signed for five H135s, plus one option, with deliveries due to run from early 2022 until mid-2024. They are to replace older models in the fleet, says OAMTC.
No details of the engine selection were provided, although OAMTC's existing fleet of 28 H135s use Safran powerplants.
Meanwhile, Airbus Helicopters has also received an order for a pair of H160s for delivery in 2022 from French firm Heli-Union.
Heli-Union was previously a customer for the larger H175. However, Cirium fleet data records that the majority of its orders have been cancelled, leaving a single unit on its books. Other customers, for example lessor Milestone Aviation, have previously switched commitments for the H175 to the H160.
Airbus Helicopters did not respond to questions on the status of Heli-Union's H175 order.
Story updated in 10th paragraph with delivery date for H160s.