European regulators have outlined proposals to close a legislative loophole that has left thousands of helicopters operating that are equipped with fuel systems that do not meet the latest crashworthiness standards.
Under European Union Aviation Safety Agency (EASA) legislation introduced in 2003, only rotorcraft certificated after 1994 are required to have a crash-resistant fuel system (CRFS) installed.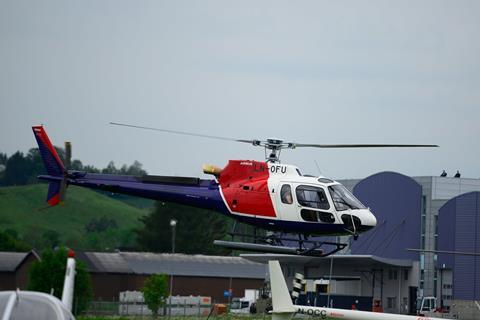 While that excludes older out-of-production types, newer variants or derivatives whose type certification relies on 'grandfathering' are also exempt from the requirements.
EASA calculates that 40% of the 5,810-strong European rotorcraft fleet in 2020 – or 2,327 helicopters – are not compliant with "occupant protection" rules, mainly relating to CRFS installation.
The uneven regulation has "resulted in a mixed fleet of rotorcraft with some rotorcraft being compliant with the CRFS requirements and some not, depending on the certification year," says the agency, which is currently consulting the industry on its plans.
"The rotorcraft that are not compliant with the CRFS requirements have had an adverse effect on the overall safety of the European rotorcraft fleet due to the higher likelihood of a post-crash fire with associated fatalities."
Since 2011, nine safety recommendations have been addressed to EASA by accident investigators urging it to improve the levels of CRFS incorporation on both new-build and in-service helicopters. Norway's SHT raised the issue in its report into a 2019 crash and post-impact fire of a H125 which was not fitted with a CRFS; all six occupants died in the accident.
Based on its calculations, 13 fatalities could have been prevented across 11 accidents that caused a total of 27 deaths in the 2009-2018 period, it says. In addition, it cites seven deaths from two further accidents – the crash in Norway, plus another in Portugal – in 2019.
Although EASA notes that the European fleet will eventually become complaint with CRFS requirements as new helicopters are introduced and older models retired, this will not occur until after 2054, when non-compliance will still be at 5%.
"In the meantime, operators will continue to operate and carry passengers in rotorcraft with older designs that do not offer the same level of protection to the occupants in the event of a crash," it adds.
EASA examined six policies to tackle the issue, from no change at one end to more comprehensive solutions at the other.
Its preferred option is to require the installation of a CRFS onto all newly produced rotorcraft from 2025 and onto all existing rotorcraft with five or more occupants from 2030. Rotorcraft designed for four or fewer occupants should be brought within the scope of the legislation from 2038, it argues.
While conceding there will be significant financial penalties, running to hundreds of millions of euros, for both manufacturers and operators from its proposals – none of the options are "cost-effective", EASA admits – the agency stresses that doing nothing is not an option.
In addition to failing to meet objectives set out in the EU's "Rotorcraft Safety Roadmap", inaction could also leave the industry open to the risk of higher costs through litigation and punitive insurance premiums, EASA adds.
Failing to legislate also risks significant divergence with the USA, EASA notes. In 1994, the Federal Aviation Administration required helicopters certificated after that date to be fitted with a CRFS. That regulation was strengthened in 2020 when US lawmakers mandated that newly built rotorcraft operated or registered in the USA be fully or partially compliant with the CRFS requirements.

Dominic Perry is deputy editor of Flight International but also contributes extensively to flightglobal.com. Although specialising in the coverage of the helicopter industry, he has written on most topics in aerospace – be they commercial, defence or business aviation. In addition, there has been an increasing focus on the decarbonisation of the industry and zero-emission flight initiatives.
View full Profile