European regulators are hopeful that newly commissioned research into vortex ring state (VRS) will deliver a significant safety boost for helicopter operators, and potentially lead to change in certification and pilot training requirements.
In addition, the study could help with the development of similar regulations for electric vertical take-off and landing (eVTOL) aircraft.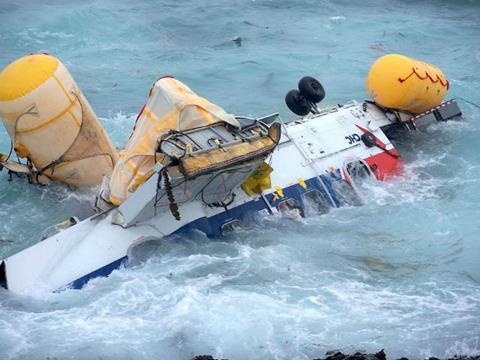 In early December, the European Union Aviation Safety Agency (EASA) awarded French aerospace research institute ONERA a 24-month contract, worth just under €380,000 ($403,000), to conduct a deeper examination of VRS.
ONERA, working with the flight-test arm of France's DGA defence procurement body, will conduct a series of flight tests from Istres air base near Marseille using a pair of heavily instrumented rotorcraft – an Airbus Helicopters AS550 light-single and an AS365 medium-twin.
VRS – where a rotorcraft descends rapidly through its own downwash – is a serious safety risk for helicopter crews, but is not considered as part of the aircraft certification process, says EASA.
Although pilots are taught to recognise VRS and exit techniques as part of their basic training, EASA points out that the "envelope and the characteristics of VRS can change" from one helicopter type to another.
But there is no requirement for a manufacturer to define those rules, or to "define specific limitations and crew instructions in the relevant aircraft flight manual".
In addition, "the recovery manoeuvres being taught to student pilots are mostly limited to traditional ones", the agency adds.
EASA says the study will "provide a better understanding of the VRS phenomenon on different kinds of helicopters" and also an "indication of the effectiveness of other recovery manoeuvres", including the so-called Vuichard technique.
Results from the research will enable the agency to evaluate whether it needs "to change the current regulations" to enhance safety, it says.
"This, however, will not only include certification specification, but also regulations, like pilot training and ops regulations.
"At the same time, the study could lay down the basis for the development of relevant regulations for eVTOLs," it adds.
EASA says the two different helicopter types were chosen for the study "in order to have more data available that would support a generalisation of the test results, both for the VRS envelope prediction and for the evaluation of the recovery manoeuvre."
Exact details of the evaluations are still to be finalised, says EASA, but its initial phase will "include the exploration of the vortex ring envelope, including its variation with the most relevant parameters".
A second stage will explore the Vuichard technique and asses its effectiveness against conventional recovery methods.
EASA says although the precise assessment criteria are still to defined, it expects the evaluation will be "based on specific criteria, such as pilot workload, ease of the manoeuvre, pilot situational awareness, altitude loss, as well as monitoring relevant flight parameters for a safe recovery of aircraft control."
At least two test pilots will perform the assessments for each condition and each type, it adds.
VRS has previously been blamed for a number of high-profile helicopter accidents, including the fatal 2013 crash of an Airbus Helicopters AS332 (G-WSNB) on approach to Sumburgh airport in the Shetland Islands.

Dominic Perry is deputy editor of Flight International but also contributes extensively to flightglobal.com. Although specialising in the coverage of the helicopter industry, he has written on most topics in aerospace – be they commercial, defence or business aviation. In addition, there has been an increasing focus on the decarbonisation of the industry and zero-emission flight initiatives.