European regulators are proposing to tighten rules for helicopters that are operated over water for extended periods, in order to speed the uptake of the latest safety standards.
Contained in a consultation document released by the European Union Aviation Safety Agency (EASA), rules that already apply to CS-27- and CS-29-category rotorcraft certificated after June 2018 – and those flown on certain operations such as offshore oil and gas missions – would be expanded to cover other parts of the fleet.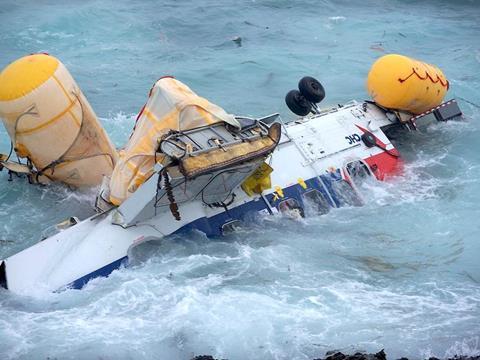 EASA believes significant benefits can be realised by the changes, which are designed to deal with forced landings on, or survivable impacts with water and the subsequent likelihood that the helicopter capsizes, trapping its occupants.
Developed on the back of safety recommendations from numerous ditchings and crashes, including several in the UK, the proposed improvements cover the design and deployment of floatation systems for the helicopter, the number, location and ease of access for emergency exits, life raft deployment, and other items such as illumination of the exits and the provision of life vests.
In addition, the docoment covers the reassessment of aircraft stability in a variety of sea states. These must show a low – less than 3% probability – that the helicopter would capsize in a sea state selected by the manufacturer, or less than 30% with float damage, using a new irregular wave test method.
Research suggests that worldwide, over the 15-year period from 2003 to 2018, more deaths followed survivable water impacts by helicopters (95) than were caused by non-survivable accidents (87).
EASA says that 355 offshore helicopters will be covered by the rules: 25 light-singles, 31 light-twins, and 299 large helicopters with a maximum take-off weight above 3,175kg (7,000lb). These are operated in 12 EU member states and the UK – including a single example in land-locked Switzerland.
EASA says the rule changes are intended to accelerate the uptake of the latest safety standards. It notes that typically long service lives and production runs for helicopters, coupled with the rules not applying to certain derivative designs, mean that it could otherwise take "a considerable time" for newer standards to "become widespread in the offshore fleet".
"If no retrospective action is taken, then there will not be any significant improvements in the safety of the offshore helicopter operations in Europe in the short or mid term," it says.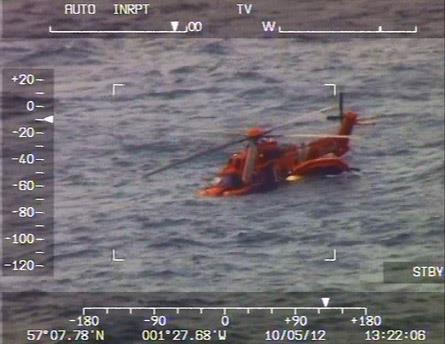 More offshore windfarms, which require maintenance crews transporting to them, may also increase the number of helicopters used for offshore missions, it adds.
EASA proposes four options: a comprehensive package of changes; testing of emergency floatation systems; introduction of emergency arming and deployment of the floats; and capsize resistance testing using the new irregular wave standard.
Helicopter or system redesign might be required under certain of these scenarios, it says, although these are likely to only be applied to newly produced aircraft or equipment due to cost and complexity concerns with retrofit activity.
EASA assesses the cost of the comprehensive package of improvements as "negligible". Based on the number of lives potentially saved versus the likely testing and certification costs, the others are more expensive, ranging from a cost per prevented fatality of €2.3 million ($2.78 million) for the arming and automatic deployment of the floatation system, to €10 million for irregular wave testing. EASA uses a value per prevented fatality of €3.5 million.
Several other safety improvements were rejected by the agency due to the likely cost involved, including increasing the size of emergency exits, which would require "significant redesign of the fuselage".
"Therefore, retroactive application of this size requirement is considered to be unfeasible," it says.
Overall, the rule changes will "improve the safety of offshore helicopter operations" with "minimal economic impact", argues EASA.
Comments on the changes are open until 31 May; EASA plans for the rules to come into force in early 2023.