UK coastguard officials are evaluating the results of a series of demonstration flights conducted with an Elbit Systems Hermes 900 unmanned air vehicle (UAV) as part of research in support of the country's next-generation search and rescue (SAR) contract.
Performed from West Wales airport near Aberporth for the Maritime and Coastguard Agency (MCA) in early Septmeber, the flights were designed to check the 1.2t UAV's performance against six key missions.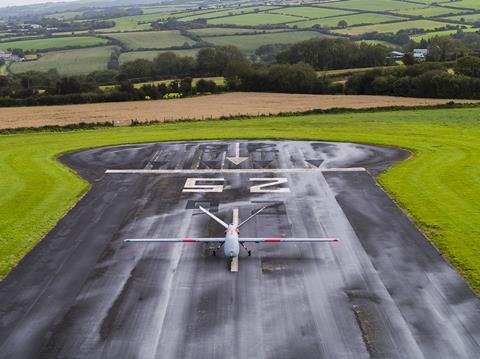 These include coastal search, long-range search, flights into a neighbouring state's airspace – in this case Ireland – and counter-pollution monitoring.
In addition, the tests explored the potential for manned-unmanned teaming between the Hermes 900 and the rotary- and fixed-wing assets operated on behalf of the MCA by Bristow Helicopters and 2Excel Aviation, respectively.
The MCA declines to supply more detail on the demonstration effort, but will provide the results to potential bidders for its SAR-2G contract.
In addition, the MCA will also by year-end publish a report which will identify the work required to enable UAVs to fly regular beyond visual-line-of-sight missions in any class of airspace in the future.
Under the MCA's proposed tender structure for SAR-2G, only the third lot expressly references the provision of unmanned systems, requiring "fixed-wing and potentially UAV, rapid search only, surveillance and pollution response".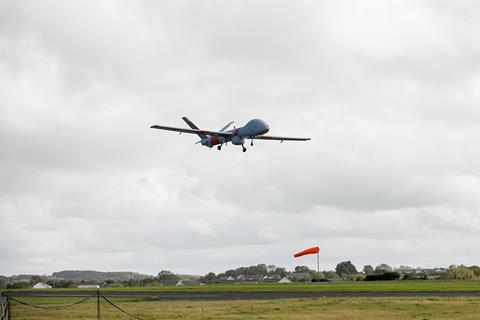 However, the agency is encouraging bidders for the core SAR operations to also consider whether drones – and other advanced technologies – could play a role in future.
Incumbent SAR provider Bristow has separately begun trials from its Caernarfon helicopter base of a Schiebel Camcopter S-100 rotary-wing UAV on both simulated and real missions.
But key to the real-world deployment of drones will be agreement with the UK Civil Aviation Authority on their use in unrestricted airspace.
The Hermes 900 was equipped with a SAR-specific radar, an automatic identification system, electro-optical/infrared sensor, and full satellite communications. Elbit has previously flagged the UAV's ability to carry and deploy four six-person life rafts from its under-wing pylons.
Under current plans, the SAR-2G procurement process is due to kick-off in the first quarter of 2021, with contract award 18 months later.