Aerospace firm Erickson delivered a K7 S-64 Air Crane helicopter to the Korean Forest Service (KFS) in late November.
The rotorcraft was flown to South Korea aboard a chartered Antonov An-124 transport from Erickson's Medford, Oregon production facility.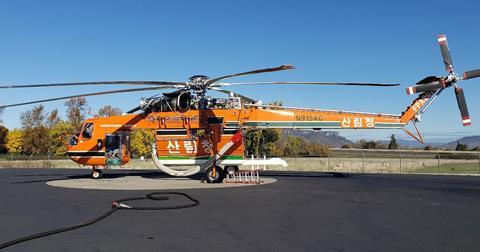 The specific aircraft delivered was a re-manufactured example that includes a new glass cockpit, night vision goggle compatibility, and other updates.
"The K7 includes system upgrades and the latest avionics package available within Erickson," it adds.
The example delivered bears the registration HL9659. Cirium fleets data indicates that the build year of the Sikorsky-produced rotorcraft is 1968. It was in service with the US Army until it was parked in 1993, with Erickson purchasing it in November 2018.
"In 2001, KFS was the first foreign government to purchase S-64 helicopters from Erickson," adds the company.
"Due to their success with the aircraft, KFS continues to modify and upgrade its fleet with the addition of K7, incorporating the latest modifications, including composite made rotor blades and glass cockpit. KFS continues to be a leader in aerial firefighting, utilising the most robust aircraft, for the toughest job."
The KFS operates 51 rotorcraft, of which four are S-64s with an average age of 51.7 years. It's most numerous type, with 26 examples, is the Kamov Ka-32.