EU defence officials have launched a project called the Next Generation Medium Helicopter (NGMH) which aims to harmonise forthcoming rotorcraft requirements – both for upgrades and future products.
One of 11 new Permanent Structured Cooperation projects unveiled on 23 May, the NGMH initiative "aims to create a dedicated forum that will address operational needs, both on the upgrade of existing fleets and on the European Next Generation Rotorcraft", it says.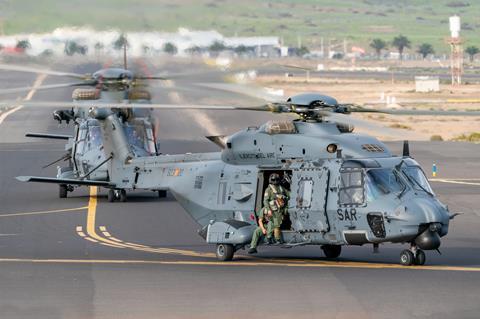 This will allow the future rotorcraft capability requirements and timelines of EU countries to be harmonised, it says.
"The NGMH will ensure the availability and suitability of EU helicopter fleets until 2040 and the preparation of the European Next Generation Rotorcraft, including the ability to face high intensity conflicts."
Led by France, the NGMH project also includes participation from Italy, Finland and Sweden. It will run in parallel with the European Next Generation Rotorcraft Technology (ENGRT) programme, which has been allocated €40 million ($42 million) by the European Defence Fund for its phase one work.
Led by Airbus Helicopters with support from Leonardo Helicopters, ENGRT features contributions from companies in France, Finland, Germany, Greece, Italy, the Netherlands, Spain and Sweden.
The 42-month project will "focus on analysing and understanding the needs of European armed forces for rotorcraft operations beyond 2030."
A separate NATO initiative, the Next Generation Rotorcraft Capability project, is also under way. That effort includes France, Germany, Greece, Italy, the Netherlands and the UK, plus Canada, which will join the grouping, and aims to field a new medium-class helicopter by 2035.

Dominic Perry is deputy editor of Flight International but also contributes extensively to flightglobal.com. Although specialising in the coverage of the helicopter industry, he has written on most topics in aerospace – be they commercial, defence or business aviation. In addition, there has been an increasing focus on the decarbonisation of the industry and zero-emission flight initiatives.
View full Profile