Airbus Helicopters has offered a first glimpse of the 'face' of its high-speed Racer technology demonstrator with the release of an image of the completed nose section.
Developed by the FastCan consortium in Germany, the three parts of the composite-reinforced structure were joined together in early April.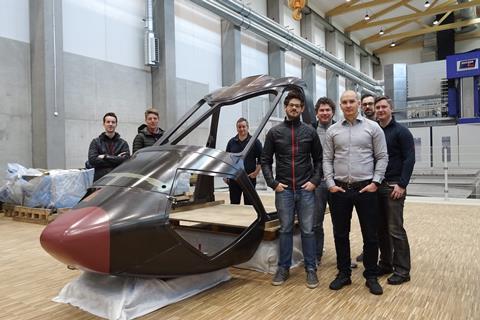 FastCan is an entity created specifically for the Racer programme and comprises automotive specialists KLK Motorsport and Modell und Formenbau Blasius Gerg.
The structure includes the radome, plus the centre and cockpit shells. With the Racer targeting a cruise speed of 220kt (407km/h), the canopy is required withstand more severe impacts than that of a regular helicopter.
However, thanks to innovative construction techniques it is some 7% lighter than the original design specification.
Final assembly of the helicopter, developed under the EU's Clean Sky 2 programme, will take place this year ahead of a first flight in the fourth quarter of 2021.