Defence officials have whittled down the number of bidders for the UK's New Medium Helicopter (NMH) contest to four companies following an initial selection process.
Airbus Helicopters, Boeing, Leonardo Helicopters and Sikorsky all successfully passed the dynamic pre-qualification questionnaire (DPQQ) issued to interested parties by the Ministry of Defence (MoD), FlightGlobal can reveal. Bidders were informed of their progress on 31 October.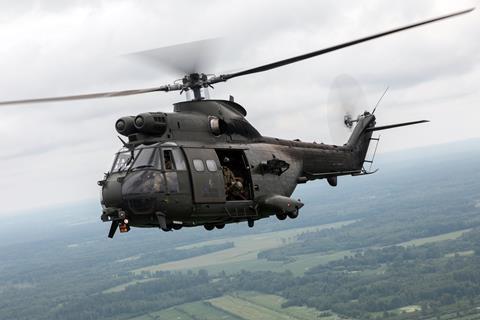 None of the manufacturers wished to comment, save to confirm that they had cleared the DPQQ stage.
Airbus Helicopters is offering the H175M, Leonardo Helicopters the AW149 – to be built in Broughton and Yeovil, respectively – and Sikorsky the S-70M Black Hawk.
Boeing's interest in the requirement is unclear given the lack of a suitable aircraft in its range: the only medium helicopter it could offer is the MH-139, which is based on Leonardo's best-selling AW139.
However, two sources suggest Boeing may instead be interested in the support and training elements of the procurement.
Seemingly dropping out of the race are Bell, NH Industries and AceHawk Aerospace, which was proposing the ML-70 – an upgraded pre-owned UH-60 Black Hawk.
The next step for the NMH programme will be the issuing of invitations to negotiate (ITN) to the shortlisted manufacturers – where the MoD sets out its precise requirements – a milestone likely to take place in early 2023.
Destined to replace the Royal Air Force's fleet of 23 Puma HC2 helicopters, plus three other rotorcraft types in UK service, the NMH is slated to enter service in 2025. The MoD has previously indicated it could procure up to 44 aircraft.

Dominic Perry is deputy editor of Flight International but also contributes extensively to flightglobal.com. Although specialising in the coverage of the helicopter industry, he has written on most topics in aerospace – be they commercial, defence or business aviation. In addition, there has been an increasing focus on the decarbonisation of the industry and zero-emission flight initiatives.
View full Profile