France has ordered 169 Airbus Helicopters H160M Guepards for the three branches of its armed forces, officially kicking off development activity for the type.
Confirming the deal, French defence minister Florence Parly said deliveries will begin in 2027.
A single helicopter type for the three different services is a "first", she says, which will reduce costs and improve availability.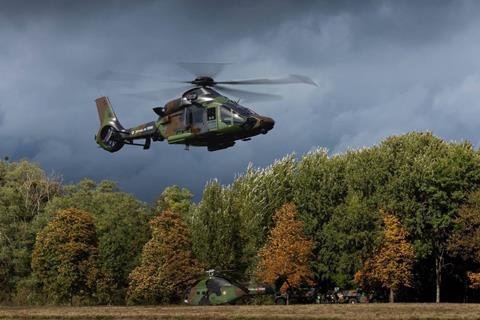 Included within the contract is provision for the development of several prototypes and the delivery of an initial 30 aircraft: 21 for the army, eight for the navy and a single example for the air force. The army is to receive the very first helicopter.
In all, the army will take 80 units, the navy 49, and the air force 40. However, Babcock is also to operate six H160s for the navy in a "light military configuration" on search and rescue missions. Delivery will take place before the arrival of the first Guepards.
The H160M is the military variant of the manufacturer's new 6.5t-class Safran Arrano-powered medium-twin, which is due to enter commercial service in 2022. It will replace five helicopter types in French service, some of which have been in operation for the past 40 years.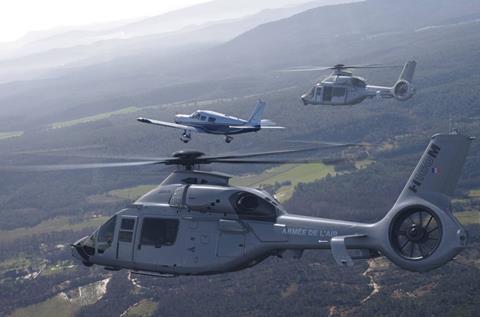 Airbus Helicopters says trials conducted in the Moroccan desert in July 2021 demonstrated the efficiency of the H160's inlet barrier filters and the automatic flight control system during take-off and landing operations in degraded visual conditions.
It will also be equipped with the airframer's HForce modular weapons system, with armaments including the MBDA ANL anti-ship missile, plus pod-housed and door-mounted machine guns.
Other equipment will include Safran's Euroflir 410 electro-optical system, and the Thales FlytX avionics suite and AirMaster C radar.
France in 2017 selected the H160M for its tri-service helicoptere interarmees leger (HIL) requirement.