France has received the first of six Airbus Helicopters H160s to be operated on an interim basis by its navy for search and rescue missions.
This fleet will be delivered by a partnership formed by Airbus Helicopters, Babcock and Safran Helicopter Engines.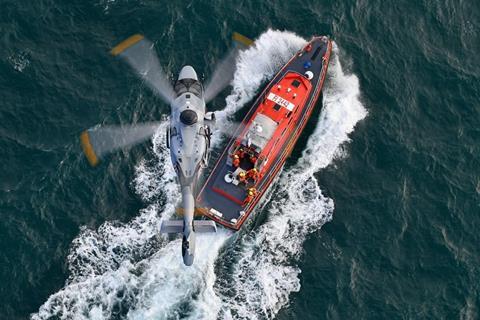 Babcock took delivery of the initial helicopter in May this year, modifying the medium-twin into what the manufacturer describes as a "light military configuration".
Other changes include the adaption of the cabin for SAR operations and the integration of a Safran Euroflir 410 electro-optical system.
"The delivery of the first H160 to a military customer is a major milestone for the programme," says Bruno Even, chief executive of Airbus Helicopters.
"Furthermore, the delivery takes place soon after two H160s entered into service this summer, in Brazil for the private and business aviation segment and in Japan for news gathering missions", he says. Even notes that it is also the first of the type to be delivered in a public-service configuration.
Operations with the H160 will gradually ramp up at naval air stations in Lanveoc-Poulmic, Britanny and Hyeres, Provence, and Cherbourg airport in Normandy.
The new helicopters will provide interim search and rescue capacity while the navy waits for the delivery of a total of 49 H160M Guepards to be procured under France's 169-unit tri-service HIL programme.

Dominic Perry is deputy editor of Flight International but also contributes extensively to flightglobal.com. Although specialising in the coverage of the helicopter industry, he has written on most topics in aerospace – be they commercial, defence or business aviation. In addition, there has been an increasing focus on the decarbonisation of the industry and zero-emission flight initiatives.
View full Profile