GE Aerospace is joining the US Army's Future Long-Range Assault Aircraft (FLRAA) development programme as a supplier to prime contractor Bell.
The company best known for producing engines will contribute several onboard aviation systems to the Bell V-280 Valor, including the next-generation tiltrotor's digital backbone, voice and data recorder, and health awareness system.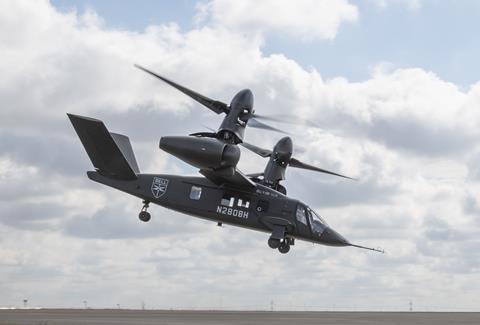 GE Aerospace announced the partnership on 7 September, saying its digital backbone will be a critical component to satisfying the army's requirement for open-source architecture on the FLRAA programme.
"Our open systems technologies and experience provide the customer with the ability to make aircraft system modifications for this next-generation of vertical lift aircraft," says Amy Gowder, chief executive of GE Aerospace's defence and systems unit. "This changes how aircraft are updated and maintained, and it ensures that our soldiers have an advantage on the battlefield."
The open architecture requirements are part of a Pentagon-wide push on new development programmes to address so-called "vendor lock", where the original equipment manufacturer retains an effective monopoly on future upgrades and modifications through proprietary design choices.
Bell overcame rival Sikorsky in the FLRAA competition, in part over concerns by the army that Sikorsky had not adequately addressed the service's open system requirements.
The V-280 designer and long-time helicopter manufacturer says the Valor's open architecture will reduce life cycle costs, improve maintenance and ultimately deliver a better aircraft to the army.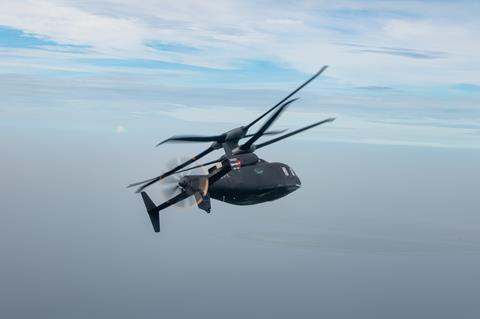 "This collaborative approach provides the army a vendor-agnostic path to explore new systems and capabilities – delivering soldiers the right tools for success in multi-domain missions," says Ryan Ehinger, Bell's programme director for FLRAA.
The next-generation aircraft contract was a milestone win for Textron-subsidiary Bell, which is expected to produce thousands of V-280s at a cost of $70 billion or more over the lifespan of the programme.
Valor suppliers, such as GE, also stand to benefit from the massive procurement effort.
In addition to the digital backbone that will support open systems architecture, GE says the V-280 voice and data recorder will acquire, transfer, process, and analyse flight and voice data in support of safety, maintenance, and flight quality assurance.
The health awareness system will leverage predictive maintenance tools to help maintainers maximise aircraft readiness and minimise sustainment costs.
GE Aerospace is also partnering with Bell on the company's 360 Invictus prototype, which Bell is competing against Sikorsky's Raider X for the army's Future Attack Reconnaissance Aircraft development effort.

Ryan Finnerty is the Americas defence reporter for FlightGlobal.com and Flight International magazine, covering military aviation and the defence industry. He is a former United States Army officer and previously reported for America's National Public Radio system in New York and Hawaii covering energy, economics and military affairs.
View full Profile