GE Aviation will use an existing overhaul site for the maintenance of T700 or CT7 engines should the UK select a rotorcraft equipped with either powerplant for the country's looming New Medium Helicopter (NMH) contest.
One NMH contender – the Sikorsky S-70M Black Hawk – is exclusively equipped with the T700 engine, while another, Leonardo Helicopters' AW149, features a choice between the related CT7 and the more powerful Aneto-1K built by Safran Helicopter Engines (SHE).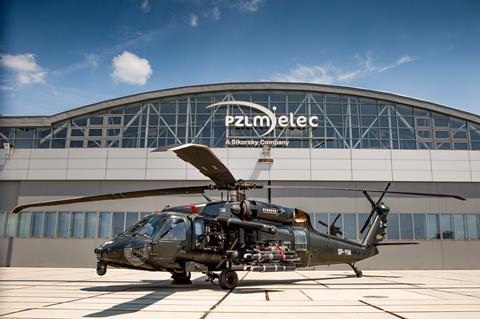 SHE recently announced that it will assemble and repair its engines at a facility in Fareham, Hampshire if Aneto-1K-powered AW149s are chosen for NMH.
Coincidentally, GE will also base its sustainment offer in Hampshire, on the south coast of England, although seemingly there would be no local assembly of the powerplants.
"GE has existing full engine depot capability through H+S Aviation in Portsmouth for T700-701D and CT7-2E1 engines, and that partnership would expand to meet demand should a T700/CT7-powered aircraft be selected for NMH."
H+S Aviation is part of global independent MRO provider Standard Aero and has a relationship with the engine manufacturer spanning 30 years.
GE notes that a T700- or CT7-powered NMH aircraft "would have significant levels of engine commonality" with the new Boeing AH-64E Apache attack helicopters now being delivered to the British Army.
"The UK's new AH-64E use the same T700-701D engines as Sikorsky's newest Black Hawks, and there is also a high level of part commonality between the -701D engines and the CT7. That presents clear advantages for the UK in terms of logistics burden, training, and cost," it says.
Pratt & Whitney Canada, whose PT6 engines power a third contender for the NMH contest, the Airbus Helicopters H175M, has yet to detail its plans for UK support.
Additionally, GE has also not ruled out supplying the higher-rated T901 engine to the UK if that was specifically requested.
Developed under the US Army's Improved Turbine Engine (ITE) programme, the 3,000shp (2,240kW)-class T901 – currently in the engineering and manufacturing development phase – will be used to re-engine the service's fleets of UH-60 Black Hawks and AH-64 Apache helicopters, replacing their current T700s from around 2025.
While US-based GE says its "complete focus right now" is the successful conclusion of a test campaign, and ultimately deliveries of the engine to its domestic customer, "we do expect that, similar to the T700, the T901 will have applications beyond US Army helicopters in the future".
Similarly, Sikorsky appears open to options with its Black Hawk bid. "The US Army intends to acquire the ITE for its Black Hawk and Apache helicopter fleets beginning in the mid-2020s.
"We await the UK Ministry of Defence requirements for the NMH programme, which will inform how Sikorsky, a Lockheed Martin company, will respond," it says.
Meanwhile, both Boeing and Sikorsky are conducting studies under contracts awarded last year to ascertain whether any modifications will be required to their respective AH-64 and UH-60 helicopters to enable the integration of the T901.