GE Aviation has begun delayed bench tests of its first T901-GE-900 turboshaft, the engine that will in future power a huge swathe of the US Army's rotorcraft fleet.
A 3,000shp (2,240kW)-class powerplant, the T901 was in 2019 selected by the army to progress to the engineering and manufacturing development (EMD) phase of its Improved Turbine Engine Program (ITEP) initiative.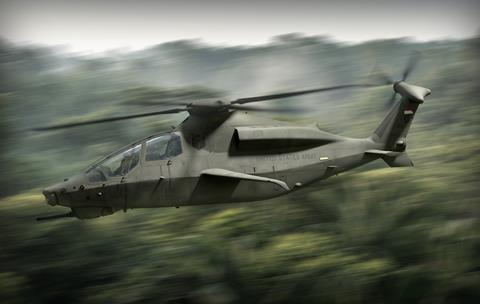 That effort will see the service re-engine its fleets of Boeing AH-64 Apache attack helicopters and Sikorsky UH-60 Black Hawk transports with the new turboshaft, replacing their current GE T700s.
In addition, the T901 will power the US Army's Future Attack Reconnaissance Aircraft (FARA), competitive prototypes of which are being built by Bell and Sikorsky.
Performed at the manufacturer's upgraded Lynn, Massachusetts facility, the first engine to test milestone had been delayed due to pressures in the supply chain caused by Covid-19 disruption.
"We're excited to get testing started on this engine. It's the biggest [ITEP] milestone to date… and the result of the strong collaboration between the GE and US Army teams," says T901 director Tom Champion. "The early testing data we've gathered indicates the engine is performing in line with our expectations and army requirements."
Compared with the T700, the T901 promises a 50% power increase with a 25% improvement in specific fuel consumption.