Leonardo Helicopters is hoping next year to conduct a hot and high test campaign in the USA of a main gearbox (MGB) upgrade for the AW101 that will significantly increase lift capability.
Designed to use the additional power already available from the type's three GE Aviation CT7-8E engines – each rated at 2,527shp (1,884kW) – the project is focussed on increasing the MGB's torque rating at take-off power to 117%.
Currently, the AW101's transmission is rated at 5,580shp at maximum take-off power.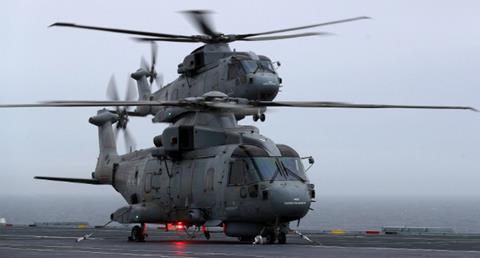 Leonardo Helicopters says the self-funded initiative has been under way since early 2020, led by its site at Yeovil in the UK, the location of the AW101's final assembly line.
"This programme brings significant benefits in lift capability, hover performance, and one engine inoperative conditions," says the manufacturer.
No modifications to the MGB are required, with changes instead focussed on the engines' FADEC system, and aircraft management and cockpit display systems.
Endurance testing of the MGB will demonstrate that it can handle the new torque rating without a significantly increased maintenance burden.
Hot and high flight tests are provisionally scheduled to take place in the USA in 2022, leading to Federal Aviation Administration (FAA) approval the following year.
FAA validation is necessary as the CT7 is a civil-certificated engine.
The enhanced capability will be delivered to some existing operators and all new AW101 customers, says the manufacturer.
Leonardo Helicopters could potentially offer the upgrade to the UK Ministry of Defence as part of a broader package of improvements to enable operation of the Royal Navy's AW101 Merlins until 2040. Those helicopters are powered by Safran RTM322 engines.
Other customers – notably the Royal Canadian Air Force – are also considering upgrades to their AW101 fleets.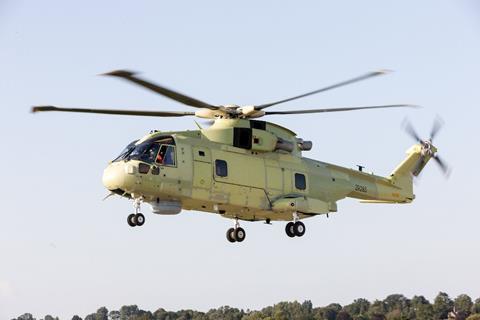 Meanwhile, the first of four AW101s for the Polish navy performed its maiden flight at Yeovil on 19 July.
Warsaw ordered the helicopters in 2019. They will be used for anti-submarine warfare and combat search and rescue missions.
Leonardo Helicopters' Polish subsidiary PZL Swidnik is prime contractor for the order. During a late May visit to Yeovil an initial three helicopters for Poland were in various stages of final assembly.