Germany is looking to buy more than 60 Airbus Helicopters H145Ms to address a broad spectrum of missions - including training and light attack - chiefly for its army.
In fact, the army requires nearly 50 helicopters on its own: 24 for training and a further 24 as battlefield utility helicopters to equip its three aviation regiments. The navy and air force are likely to need another 16 aircraft between them.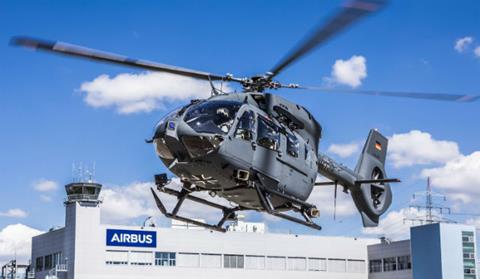 Detailing the requirement at Defence IQ's International Military Helicopter conference on 26 February, a representative from the army's rapid forces division said the helicopters could be required from 2021.
Initial examples would replace the older EC135s and Bell 206Ds currently deployed at the army's multinational training school at Buckeburg, contracts for which expire next year.
"We are seeking to relieve the legacy fleet of today through buying a common platform," he says.
Germany has already bought two variants of the H145M – which it calls the Light Utility Helicopter (LUH) – 15 for the air force in support of special forces missions (LUH SOF) and five examples of a search and rescue model for the army (LUH SAR); both have been painless acquisitions.
"The H145 is already known to the German armed forces and we are now thinking of profiting from those good experiences," says the army representative, with the new variant to be known as the LUH Streitkrafte (LUH SK).
An initial eight LUH SKs equipped with Airbus Helicopters' HForce modular weapons system will support the army's Tiger attack helicopter fleet. However, all 48 rotorcraft will have the necessary systems in place to use HForce.
"We want to use [those training aircraft] also in a wartime scenario to support the fight," he says, describing the likely acquisition as a "smart" use of resources.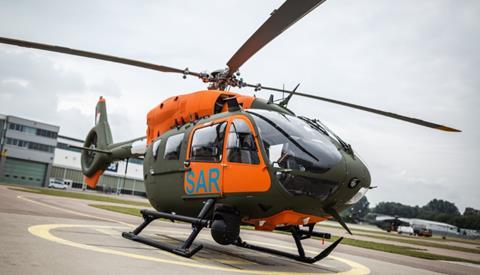 Additional tasks could include battlefield liaison, transport or medevac. The H145 has achieved considerable success in the commercial emergency medical services market, notes the army representative, so "why not do the same on the military side?"
In addition, the LUH SK could allow Tiger or NH Industries NH90 crews to transfer certain training tasks onto the cheaper helicopters, helping to make up for the consistently low availability rates of those two platforms which is blamed on "weak industrial support".
Although the German army envisages an anti-armour mission for the LUH SK fleet, there is as yet no anti-tank missile integrated onto the H145M.
However, in early 2021 Airbus Helicopters and Israeli firm Rafael will conduct test firings using the latter's Spike ER munition; qualification should be achieved the following year.