Greece has submitted a formal request to purchase 49 Sikorsky UH-60 Black Hawk helicopters as replacements for its Bell UH-1s.
Athens launched the procurement process, which had not previously been revealed, in April, Sikorsky disclosed on 9 October, the first day of the Association of the US Army conference in Washington DC.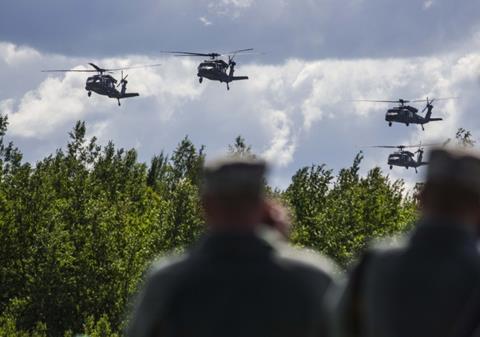 "An official request was received from Greece for the supply of up to 49 Black Hawk helicopters," says Sikorsky president Paul Lemmo. "That is in process now by the Defence Cooperation office here in the US."
The Hellenic Army currently operates 64 Bell UH-1 for utility lift missions.
The timing of any deal between Athens and Sikorsky remains uncertain. The US Department of State, which evaluates and approves proposed arms sales to overseas customers, did not respond to a request for comment.

Sikorsky confirms to FlightGlobal that Greece has submitted a Foreign Military Sales (FMS) request for the UH-60 type, rather than pursuing a direct commercial sales (DCS) deal.
It will likely be years before Greece sees any of the new Black Hawks. Lemmo says there is approximately a three-year wait between finalised order contracts and first delivery.
"It depends on the specialisation that they want in the aircraft," the Sikorsky chief says. "Depending on the aircraft, sometimes we can accelerate that a little bit more."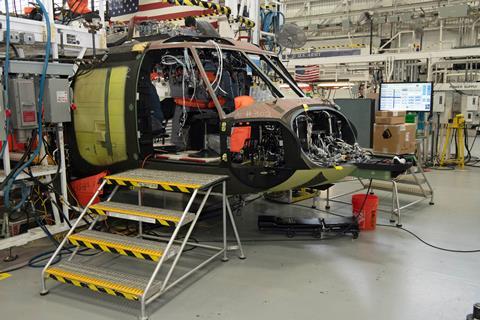 While the Lockheed Martin subsidiary produces the iconic Black Hawk at its main plant in Stratford, Connecticut, Sikorsky also offers the DCS-approved S-70 variant.
That type is produced in Europe by Sikorsky's Polish subsidiary PZL Mielec. The S-70 offers the advantage of not requiring approval through Washington's lengthy FMS process.
FMS customers gain the benefit of accessing the Pentagon's internal systems for contracting and sustainment.
The interest from Athens could continue a string of wins for Sikorsky, which has been pushing to expand overseas sales of UH-60s.
Australia in January committed to acquiring 40 Black Hawks under Canberra's LAND 4507-01 programme, while Poland in August initiated the procurement process for up to 32 S-70s from PZL Mielec.
Indonesia also in August announced a partnership with Sikorsky to pursue an S-70 acquisition covering up to 24 examples of the type.

Ryan Finnerty is the Americas defence reporter for FlightGlobal.com and Flight International magazine, covering military aviation and the defence industry. He is a former United States Army officer and previously reported for America's National Public Radio system in New York and Hawaii covering energy, economics and military affairs.
View full Profile