Airbus Helicopters will offer H145 light-twins in future with manned-unmanned teaming (MUM-T) capability following a successful trial of the technology.
Commercial roll-out of a MUM-T system – or what Airbus Helicopters refers to as the ability to deploy a "robot wingman" – comes on the back of a second phase of testing which is due to conclude in the coming days.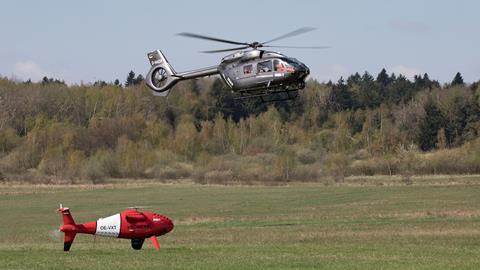 One customer has already been offered the capability, says H145M programme manager Mark Henning, "which means that based on all the tests up to now we are ready to offer it to the public".
However, based on the current lead time for new H145s, the MUM-T system will not be delivered for around two years. It will be available to both military and parapublic customers, he says.
The latest round of evaluations in Bavaria were designed to assess improvements to the system brought in to address shortcomings found during previous trials conducted in 2017 and 2018.
"We understood that datalinks needed to be much more robust and precise" in order to ensure control of the unmanned air vehicle (UAV) and a continuous feed of data from its sensors, says Henning.
Pilot workload was also found to be a significant issue, he told the airframer's virtual Trade Media Briefing on 30 November.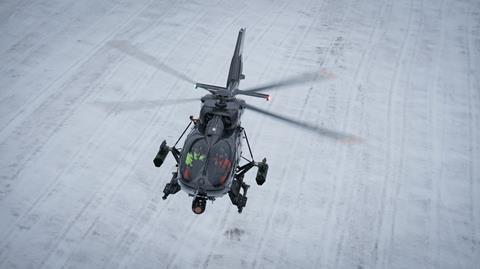 Cockpit screens have increased in size, he says, and a "more intuitive interface" between the crew and the system has been added.
In addition, rather than controlling the UAV, the crew can assign it tasks to perform autonomously, such as reconnaissance or search and rescue.
Artificial intelligence has also been employed within the mission system to allow both the detection and classification of targets, says Henning.
During the previous trials an H145 was integrated with a Schiebel Camcopter rotary-wing UAV, but for the latest round several different fixed-wing UAVs were instead employed, allowing greater endurance with no performance mismatch, says Henning.
That process will continue in the coming years, he adds: "We are planning to work together with Airbus Defence & Space with their remote carriers, which are dramatically faster than a helicopter."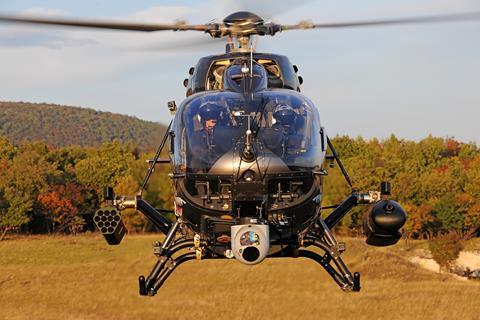 Additional testing this year focused on enhancing the H145's C4I capabilities in conjunction with its German air force customer, he says.
Airbus Helicopters will also in the next two weeks conduct test firings of an undisclosed guided anti-tank missile from the H145M as part of its HForce weapons system package. Rafael's Spike munition has previously been mooted as a likely candidate for the role.
Guided and unguided rockets and pod-housed machine guns have already been qualified on the helicopter for customers Hungary and Serbia, says Henning.
Additional integration of armaments will be driven by operator requests, he adds, with interest shown by potential customers in the Middle East "for different kinds of weaponry".
Around 15 H145Ms are currently in the backlog, including UH-72Bs for the US Army. Production is now solely of the five-bladed D3M variant, says Henning.