Airbus Helicopters has a slew of safety and operational improvements for its H145 light-twin in the works, including a new law enforcement kit that will enter service next year.
Developed for the police service of Bavaria, the unique configuration features illuminated main rotor blade tips – incorporating lighting suitable for night vision goggle use – a new mission computer that makes extensive use of artificial intelligence, and a folding 17in mission display in both the cabin and cockpit.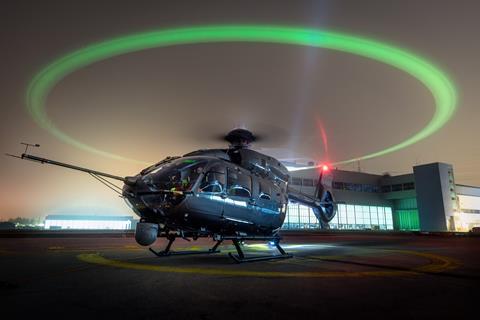 "It means the operator can also work from the co-pilot station leaving another eight seats in the back," says H145 programme manager Axel Humpert.
Bavaria in 2021 ordered eight five-bladed H145s for delivery next year. "We have challenged ourselves to bring the best technologies into their new police helicopters," says Humpert.
Meanwhile, the latest Version 10 standard of the manufacturer's Helionix avionics system is due to arrive later this year; qualification of the update is expected in the second quarter.
New features include automated helipad take-off and landing and vortex protection systems – the latter offering three levels of warning to prevent a pilot entering into vortex ring state.
Airbus Helicopters is also working on the qualification of enhanced RNP AR 0.1 performance on the H145 for Swiss rescue operator Rega and another customer. This "enables continued safe flight down to 0.1nm compared to today's 0.3nm", he says.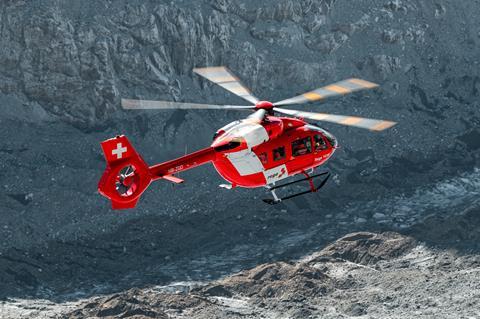 A folding blade system for the main rotor has also been developed "and we are delivering the first kit rather soon," says Humpert,
Lastly, the airframer is also bringing a new rescue hoist to market. Developed in conjunction with specialist manufacturer Vincorion, it increases maximum load to 303kg, up from 272kg previously, along with offering a 30% faster action and a longer time before overhaul.
Initial fit tests have been carried out, says Humpert. Certification is due in mid-2024, with service entry to follow later that year.
This story has been edited to correct a range figure (0.3nm) in the seventh pargraph.

Dominic Perry is deputy editor of Flight International but also contributes extensively to flightglobal.com. Although specialising in the coverage of the helicopter industry, he has written on most topics in aerospace – be they commercial, defence or business aviation. In addition, there has been an increasing focus on the decarbonisation of the industry and zero-emission flight initiatives.
View full Profile