Soaring oil prices are finally having an impact on the offshore helicopter market, with higher activity levels causing previously mothballed helicopters to be returned to service, according to the latest research from Air & Sea Analytics.
Its census of the global fleet of offshore heavy- and super-medium-category helicopters for the first quarter of 2022 shows a "substantial recovery" in active aircraft and the number of flights flown.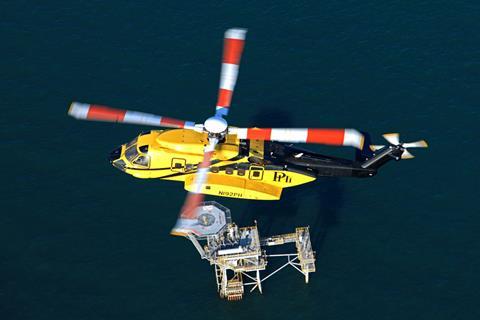 The active fleet has nudged up by 11 helicopters from the same period of 2021, a 4.5% increase from 240 to 251 aircraft, while activity levels – the number of flights performed by each rotorcraft per week – rose by 5%.
"The uplift in active aircraft is not surprising given high oil prices and double-digit growth in upstream expenditure," says Steve Robertson, director of Air & Sea. Although it has slipped back from its high of $123 per barrel in June, Brent Crude is still trading at $97/barrel – substantially higher than the $24/barrel seen in April 2020.
In addition, Robertson highlights the "underlying intensity" of return-to-service (RTS) activity, adding: "Aircraft that a year ago no-one would have expected to return to the active fleet are now flying again.
"It's only a matter of time before scarcity of available aircraft and parts drives up pricing significantly."
Aircraft covered by the census comprise Sikorsky S-92 and Airbus Helicopters H225 heavy-twins, alongside super-medium H175s and Leonardo Helicopters AW189s.
Robertson points out that although there were 41 inactive S-92s in the first quarter, "the reality for anyone trying to source an aircraft just now is that AW189s and H175s are at or near full effective utilisation and the pool of available S-92s is less than two dozen when you account for RTS activity, secondary market activity and retirements already under way."
At operator level, Brazil's Omni Helicopters International and US-based PHI have each increased their fleets by six aircraft year on year, while rival Bristow Group has seen its active fleet decrease by seven units, all S-92s.
Analysis of flight activity through to June 2022 also shows the overall number of weekly flights by heavy and super-medium helicopters is now in excess of pre-Covid levels.

Dominic Perry is deputy editor of Flight International but also contributes extensively to flightglobal.com. Although specialising in the coverage of the helicopter industry, he has written on most topics in aerospace – be they commercial, defence or business aviation. In addition, there has been an increasing focus on the decarbonisation of the industry and zero-emission flight initiatives.
View full Profile