UK start-up Hill Helicopters has pushed back the service entry of its clean-sheet HX50 light-single until late 2024 due to the complexity of the project that will see the company manufacture virtually the entire rotorcraft in-house.
Speaking during a customer event on 11 August, company founder and chief executive Dr Jason Hill said that based on the engineering work so far conducted "we know the time [required] much more accurately".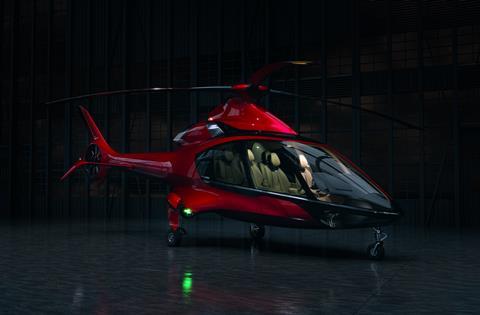 When the programme broke cover in 2020, a maiden sortie was targeted for this year, followed by first customer delivery in August 2023.
But that timeline has now slipped: first flight is now expected in late 2023 or early 2024, based on that milestone following six months after completion of the initial prototype in the second quarter of next year, Dr Hill says.
He does not reveal the date range for the first delivery, simply saying that the company's new factory will be ready for "full-scale production in September 2024".
Based on the original timeline – which saw first delivery taking place at least a year after the maiden flight – the first customer aircraft would be shipped in late 2024 at the earliest. Hill Helicopters confirms this timeline and says deliveries are expected "around the end of 2024".
Hill Helicopters' strategy is to build a composite, turbine-powered helicopter, initially for private use only, which retails for £500,000 ($595,000). It aims to achieve this price point through vertical integration - manufacturing the vast majority of components in-house, including the GT50 engine, to enable tight cost control, fast-paced development "and the complete freedom to innovate".
In addition, the HX50 will not be a fully certificated aircraft. Instead, Hill Helicopters will seek an initial type approval from the UK Civil Aviation Authority – equivalent to that for a European Union Aviation Safety Agency CS-27 aircraft – and is provided to customers with what the company describes as "amateur-built airworthiness approval".
To achieve that, customers are required to assemble 51% of the helicopter – excluding its engine and dynamic components – during a two-week course at Hill Helicopters' UK facility.
A certificated version of the rotorcraft will follow, the HC50; Hill Helicopters sees no delay to this variant, which should arrive in mid- to late 2026.
Bench runs of the initial GT50 were due to take place this summer, but that milestone will now take place in the first half of 2023, the company says.
A total of three pre-production aircraft are to be built; the initial helicopter will perform the bulk of the test flights, while its two sister ships will "be sent off on their travels" to conduct extreme conditions testing, says Dr Hill.
To date, Hill Helicopters has accumulated orders for 627 helicopters: 516 HX50s and 111 HC50s, up from respective figures of 373 and 59 in late January.
Both the HX50 and HC50 will be built at a new 31,100sq m (335,000sq ft) factory in the UK. Hill Helicopters has identified the site where it intends to construct the facility but has not revealed the location, nor when it expects to start building the plant.
Dr Hill says the factory will be capable of assembling up to 1,000 helicopters per year at full-rate production, but this will be limited to a maximum of 500 in the first year. The company previously disclosed a 260-unit first-year target.
Building each composite fuselage will take between one and two days once at full-rate production, he adds.
Accounts for the year ended 31 July 2021 – its first year of operation - show that Hill Helicopters made a pre-tax loss in the period of £3.36 million, following investments in development activities of £1.81 million and recharges from other Hill Group companies of £1.55 million.
Deposits worth £16.6 million were received during the year covering 245 units, the accounts state. In the post-balance sheet period, another £13.2 million in deposits for 332 helicopters was received. Hill Helicopters says the 577 aircraft represent a total orderbook value of £240 million.
This story has been updated to include additional comments and clarification from Hill Helicopters.

Dominic Perry is deputy editor of Flight International but also contributes extensively to flightglobal.com. Although specialising in the coverage of the helicopter industry, he has written on most topics in aerospace – be they commercial, defence or business aviation. In addition, there has been an increasing focus on the decarbonisation of the industry and zero-emission flight initiatives.
View full Profile