UK start-up Hill Helicopters has revealed the in-house engine which will power its developmental HX50 light-single, claiming that the clean-sheet GT50 turboshaft will offer significant benefits over rival powerplants.
The two-spool design offers 440shp (328kW) take-off power, with 500shp available in emergencies. It is FADEC-equipped and linked to a control system that provides haptic feedback to the pilot when nearing power limits.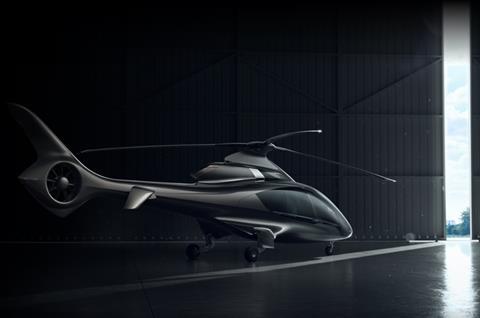 Fuel consumption is a claimed 35USgal (132 litres) per hour, and the GT50 is able to operate on standard Jet A1, although "alternatives will be announced soon" the manufacturer says. Engine weight is listed as 100kg (220lb).
Hill argues that developing the GT50 in-house has enabled the turboshaft to be designed around the specific payload and performance requirements of the HX50, "rather than having to accept a poorly suited and unnecessarily expensive old technology engine".
Other turboshafts in the same power category include the Rolls-Royce Model 250 and Safran Helicopter Engines Arrius families, the earliest examples of which date from the 1960s and 1980s, respectively.
Using a single-stage centrifugal compressor – with an 8:1 pressure ratio – the GT50 also features a two-stage axial high-pressure turbine. A single-stage low-pressure turbine includes a rear power take-off linked via a reduction gearbox to the tail rotor; a forward drive shaft located underneath the engine provides power to the main rotor gearbox.
"The expensive and heavy compressor turbine gearbox has been completely eliminated, with a direct-drive starter-generator being employed to dramatically reduce the cost and mechanical complexity of the engine," says Hill. Extensive use of electrical ancillaries has also been made.
Hill says the "engine has been completely optimised around the unique requirements of the HX50", which has allowed a "significant improvement in engine performance and durability".
Time between overhauls is 5,000h or 20,000 cycles, on condition.
First flight of the 1,650kg maximum take-off weight HX50 is scheduled for 2022, ahead of certification and service entry the following year.
Hill says that the manufacture of components is under way, with the first engine scheduled to run on a test bench in the spring of 2021. Three test engines will be built in total and subject to extensive ground tests prior to the prototypes flying in 2022.
Hill's sister company Dynamiq Engineering has previously designed "an advanced sub-500kW industrial gas turbine unit"; the GT50 "has been configured to use proven industrial combustion technology", it says.
The penultimate paragraph has been updated with additional detail on the engine development timeline.