Hill Helicopters hopes to build its new UK headquarters and manufacturing base at a site near Cresswell in the English Midlands but faces strong local opposition to the development.
Planning documents submitted to Staffordshire Moorlands District Council in May detail the proposed 32,500sq m facility to be built on agricultural land just southeast of the Blythe Business Park.
Hill Helicopters is developing the HX50 across several industrial units near Rugby, around 15 miles (25km) from the planned factory location.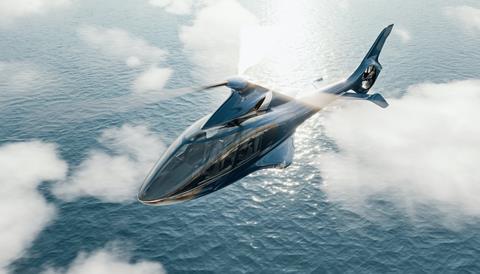 Planning permission has previously been granted for residential and industrial development on the wider site, but the start-up is seeking to modify the existing consent.
In its application, Hill Helicopters says its operation "requires suitable adjacent open land, for safe approaches to be conducted by single-engine helicopters" plus "sufficient space for the storage of completed aircraft".
It says the geography of the surrounding area provides "safe arrival and departure corridors", adding: "Local built-up or residential areas need not be overflown and can be operationally designated as noise-sensitive areas."
Manufacturing operations at the site would start in summer 2023, according to Hill Helicopters' timetable. Initial output is pegged at a minimum of 250 HX50 light-singles per year "with near-term capacity to ramp up to 500 units per year within three-years of production starting, and a longer-term likelihood of ramping up to 1,000 units per year."
Company founder Dr Jason Hill told a recent customer event that the site would be ready for full-scale production from September 2024.
To date, Hill Helicopters has accumulated orders for a total of 627 helicopters.
However, it is the testing required for each helicopter that appears a potential stumbling block to the company's ambitions.
In its application, the Hill Helicopter states that each rotorcraft will require a total of 5h of testing with the engine running: 1h on the ground, 2h of hover tests and 2h of flight testing.
"During this program of testing, we estimate an average of 10 arrivals or departures from the site per aircraft," it says.
On top of this, customers will regularly arrive at the site by helicopter, it says, and a training package sold with each HX50 would generate a further 10 arrivals and departures per aircraft.
Hill Helicopters says it would limit arrivals and departures from the facility to "normal business hours" of between 07:00 and 19:00, with no more than 50 exceptions per year.
Helicopter ground operations will also need to be "robustly permitted", but stresses that any noise generated could be "attenuated with intelligent landscaping, building design and attenuation measures".
It adds: "Helicopter ground operations are no noisier than the operation of agricultural equipment and [the] HS2 [rail line] that surround the proposed site."
But local residents are for the most part strongly opposed to the location of a helicopter factory on their doorstep, largely on noise grounds.
"At no point would we ever imagine our home [would] become a flightpath at all hours of the day and night," writes one, lodging an official objection with the council's planning department.
A public consultation on the plans runs until 7 September, with a decision expected one week later.

Dominic Perry is deputy editor of Flight International but also contributes extensively to flightglobal.com. Although specialising in the coverage of the helicopter industry, he has written on most topics in aerospace – be they commercial, defence or business aviation. In addition, there has been an increasing focus on the decarbonisation of the industry and zero-emission flight initiatives.