Hill Helicopters has revealed further details of its planned HX50 light-single, including confirmation that it is developing its own turbine engine for the platform, designated the GT50, plus an intention to redesign the rotorcraft's traditional control layout.
In addition, the UK Civil Aviation Authority (CAA) has provided more detail on the helicopter's path to certification, and says it is working with the start-up to "make sure there is agreement on the regulatory framework which will apply to [Hill's] proposal".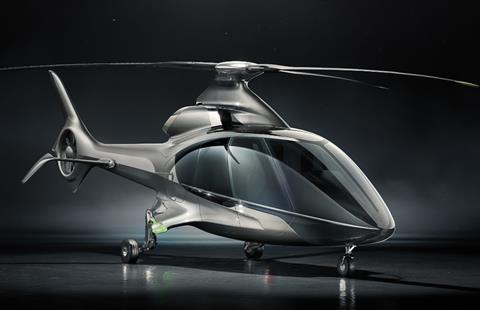 Speaking on a promotional video, founder and chief executive Dr Jason Hill says the company has "gone to a great deal of effort" to develop the GT50 turbine, which will maintain around 400shp (298kW) in the cruise, while only consuming 34-35USgal (128-132 litres) of fuel per hour.
Rival light helicopters have aerofoil sections that were "first developed in the 1940s and 1950s" and which are "relatively draggy by modern standards", argues Hill. In contrast, the three-blade main rotor on the HX50 uses "modern aerofoils", with a shape which is "evolving" along the length of the blade".
In addition, Hill will also alter the traditional flight controls: the collective lever in the HX50 will move fore and aft, rather than up and down, and the cyclic will terminate in the front panel, rather than in the floor between the pilot's legs.
But since unveiling its five-seat design in late August, Hill has remained tight-lipped on how it will certificate the 1.6t maximum take-off weight helicopter, although it has hinted that the approval path will be crucial to achieving a low price point and service entry by 2023.
Documents relating to a grant for the development – issued by Innovate UK to Hill's sister company Dynamiq Engineering – refer to the company's "unique business model which reduces both development and production costs", which is "supported" by the CAA.
Given that the HX50 is intended initially as a helicopter for private rather than commercial use, that has sparked speculation that Hill may look for an approval route that bypasses normal certification regimes, such as Europe's CS-27 light rotorcraft regulations.
In response, the CAA says it "supports all aspects of general aviation including the amateur-build aircraft movement".
It adds: "The UK CAA is discussing with Hill Helicopters about possible certification routes for this design, including the builder-assist programme, but no formal application has been received yet."
Although the CAA's CAP 659 guidance for amateur-built aircraft usually only covers rotorcraft with a maximum of two seats, the authority says programmes are reviewed on a case-by-case basis to "tweak the regulatory framework to accommodate new technologies and ideas".
However, it notes that the UK does not have an equivalent of the USA's "experimental-class" permit to fly which applies to kit-built aircraft; "a form of certification is always required by the UK CAA," it says.
Under CAP 659, amateur-built aircraft are also required to be 51% assembled by the owner – excluding a helicopter's transmission, rotor head and rotor blades – although this could take place at a manufacturer's premises.