UK start-up Hill Helicopters plans to build 260 examples of its HX50 light-single in the first year of production based on current demand for the clean-sheet rotorcraft.
Launched in 2020, the HX50 is a turbine-powered 1.65t helicopter aimed at the high-end owner-flyer market which is due to enter service in 2023. Sales have been brisk, with the company claiming orders for 370 aircraft by mid-January.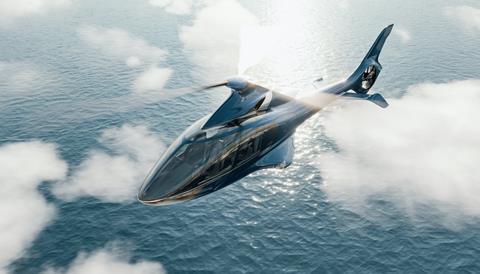 Although the fledgling manufacturer was initially unsure what level of demand there would be for the HX50, it now believes that this is "just going to increase", says Mischa Gelb, who handles sales and marketing for Hill. Consequently, output for 2024 will "be ramped up" over the previous year, he adds.
Hill intends to build a factory sized to produce 1,000 aircraft per year and Gelb believes reaching that output level is "feasible" as "market demand will be there".
And from an industrial perspective, achieving that high production rate will be aided by the modern manufacturing methods adopted by Hill – such as the out-of-autoclave production of the composite fuselage – which reduce the build time compared with more traditional processes, he says.
"Once everything has been refined the process to go from raw fibre to the finished structure should take 24 hours," he says.
Analysis of two greenfield sites for the location of the factory is ongoing; both are situated close to Hill's existing development and prototyping facility in Rugeley, Staffordshire in the West Midlands. A decision is expected during the first half of this year.
Most of the HX50's components will be produced in-house, including its new 500shp (372kW) GT50 turboshaft engine.
Gelb says the powerplant is in the final stages of detailed design and manufacture of various components is now under way. A first engine will begin ground tests by the second quarter, he says.
In all, the company hopes to have run a pool of test engines – including those equipping its three initial prototypes – for a combined 5,000h before series production begins.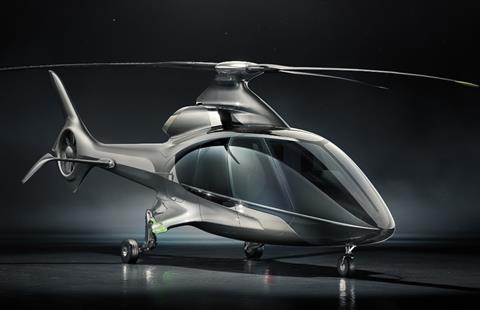 Meanwhile, work continues with subcontractor Composite Integration (CI) on fine-tuning the manufacturing process for the main fuselage and tail boom.
To date, a single one-third-scale model has been produced by CI but this will be later joined by another two scale models; a full-size test article will then follow, says Gelb.
Although CI is perfecting the process, Hill will manufacture the fuselage in-house.
An initial prototype will roll out by the end of 2022 to support flights tests and first customer delivery in August 2023, founder and chief executive Dr Jason Hill said during a pre-Christmas customer event.
However, the HX50 will not be a certificated aircraft. Instead, it will gain an initial type approval from the UK Civil Aviation Authority – equivalent to that for a European Union Aviation Safety Agency Part 27 aircraft – and is provided to customers with what the company describes as "amateur-built airworthiness approval", noting that "each aircraft is factory-constructed during a two-week fully supported build course in the UK."
When sales of the HX50 were launched, customers were required to pay a deposit of £100,000 ($135,000), which gave them a £200,000 discount on the finished helicopter. Those respective figures had shrunk to £30,000 and £60,000 by mid-January and Gelb indicates they will likely fall further.
But the deposit scheme, as well as being a means of incentivising early buyers, has also ensured the company has sufficient funds to bring the HX50 to production.
To date, it has raised in the region of £25 million, says Gelb; under Hill's financial plan it required sales of just 50 helicopters to bring the HX50 to market, he adds.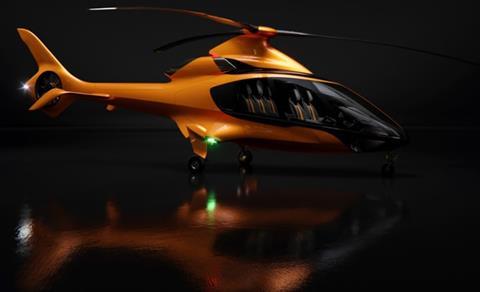 During the pre-Christmas event, Dr Hill disclosed that the HX50 had taken a 51% share of the light helicopter market over the course of 2021, achieving impressive ratios against rival products including the Bell 505 and Robinson Helicopter R44 and R66.
But anxious to avoid accusations of hubris, and acutely aware that it has not built, flown or delivered a helicopter yet, Gelb is keen to play down comparisons with its competitors. "At the moment we are just trying to build a helicopter that everybody wants – we are not trying to step on anybody else's feet," he says.
While the HX50 is the current focus, Hill plans to eventually produce a fully certificated commercial variant called the HC50.
To all intents and purposes the HC50 will be identical to its non-certificated predecessor and is scheduled to enter service in 2026.
Hill has yet to fully open the orderbook for the HC50, but has given customers for the HX50 from six countries – Australia, Canada, New Zealand, South Africa, the UK and the USA – the opportunity to secure a £200,000 discount from the £750,000 list price through the payment of a £50,000 deposit.
The company declines to say how many preliminary orders for the HC50 it has so far received, but based on the number announced during the December customer event, the total is into double figures.