Airbus Helicopters has banned H145 light-twins fitted with inlet barrier filters (IBFs) from flying in snowy conditions after a Norwegian air ambulance operator experienced engine failure on the type.
A safety information notice (SIN) issued by the manufacturer prevents IBF-equipped H145s from flying in falling or blowing snow, or in temperatures lower than 5°C (41°F) where there is visible humidity such as sleet, ice, or fog or clouds reducing visibility below 800m (2,620ft).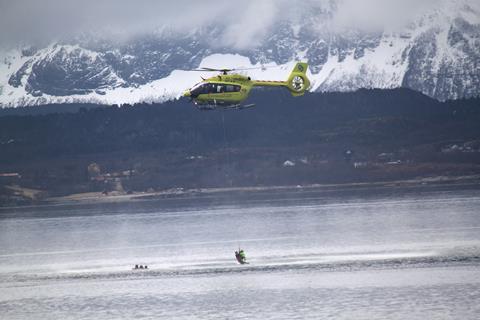 Details of the restrictions were released by the Norwegian Air Ambulance service, which operates a number of affected H145s. It is now modifying those helicopters to remove their IBFs.
The issue came to light after a forced landing on 20 November involving one of the operator's H145s (LN-00S). One Safran Arriel engine flamed out in flight, followed by the other after it touched down in Bronnoysund.
While investigations into the cause of the incident are still continuing, the SIN – details of which were posted on the PPrune internet forum – notes that "partial icing of the IBF engine intake cannot be excluded as a reason for the flame out".
It adds: "Partial icing of the IBF engine intake can occur even when no signs or only light traces of snow or ice are visible on the helicopter."
Airbus Helicopters will "in due time" issue a "temporary revision" of the flight manual supplement related to the IBF which will "re-define the environmental limitations" for use of the filter.
"In the meantime, Airbus Helicopters is further investigating the situation and expects to provide an update of this SIN within the coming weeks," says the notice.
The manufacturer adds: "Airbus has issued a safety information notice related to inlet barrier filters for its H145 fleet of helicopters for flight in snow conditions.
"We are in close contact with customers affected by this notice and are working with highest priority on a solution resolving the limitations."
Although the problem initially came to light in Norway, the Swedish Air Ambulance service has also been hit by the issue. Cirium fleets data records a total of 25 H145s in air ambulance operation across the two countries.
The issue affects the C2, D2 and D3 variants of the H145 when an IBF is fitted. An airworthiness directive from the European Union Aviation Safety Agency is likely to follow in the coming weeks.
"According to Cirium Fleets Analyzer, around 75% of the current fleet of just over 550 helicopters operate in countries where you could reasonably expect temperatures to be as low as, or lower, than 5°C," says Sara Dhariwal, Ascend by Cirium. "However, it is difficult to say exactly how many of them will be affected by this issue as we don't know the portion of the fleet that is equipped with the IBF option."