Boeing has conducted the first with an AH-64E Apache attack helicopter in a new configuration that comprises several systems updates.
The flight took place on 11 October at the company's Mesa, Arizona facility, says Boeing. The new 'Version 6.5' improves "connectivity, lethality, navigation, and survivability".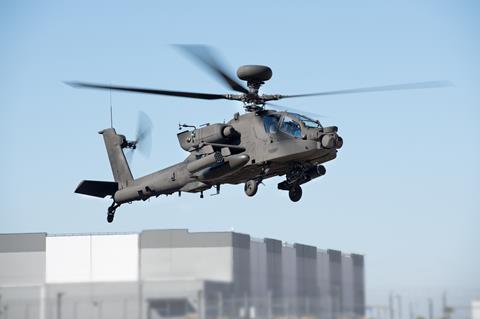 The update features improved route and attack planning, enhanced Link 16 features, and an open systems interface that will improve interoperability and allow for capabilities to be fielded more rapidly.
"We're very excited about the ongoing development of the V6.5 software as it paves the way for Apache modernisation," says US Army Colonel John Maher.
"V6.5 aligns the entire E model fleet under the same software, streamlining training and maintenance while providing a pathway for sensor/capability parity, and enables the army to address mandates and critical technologies. Ensuring relevance into the future is a top priority."
Boeing adds that it continues to work with the army for the integration of the GE Aerospace T901 Improved Turbine Engine, which is to replace the T700 engine that power the existing Apache fleet as well as the Sikorsky UH-60 Black Hawk.
The T901 will also power the service's Future Attack Reconnaissance Aircraft.
Cirium fleets data indicates that there are 323 AH-64Es serving with militaries globally, of which the US Army operates 143. Other big operators include South Korea with 36 examples, the UK with 32, and Taiwan with 29.
Boeing also has orders for 123 AH-64Es.