The Indian Air force (IAF) has formally inducted the Hindustan Aeronautics (HAL) Light Combat Helicopter (LCH), with New Delhi touting the 5.8t type's credentials as an indigenous platform.
Indian defence minister Rajnath Singh formerly inducted the rotorcraft at the air force's Jodhpur base, and has named it 'Prachanda', according to defence ministry statement.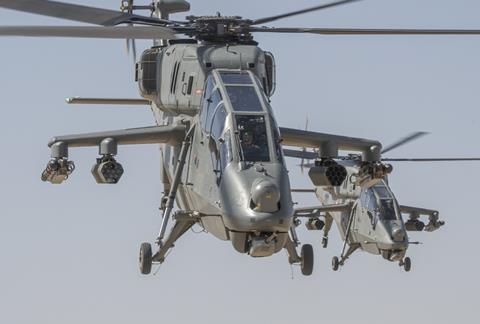 During a speech, Singh said that the Prachanda LCH will increase the firepower of the IAF, particularly at high altitudes. He also noted that heavy, ground-based weapon systems have proven vulnerable during the war in Ukraine, underlining the importance of mobile, flexible platforms such as attack helicopters.
The Prachanda's missions include combat search and rescue, destruction of enemy air defences, counter insurgency, as well as "high altitude bunker busting." In addition, the Prachanda is envisioned as having a role against both unmanned air vehicles and slow-moving aircraft.
"The induction of LCH underlines the fact that just as the country trusts the Indian Air Force, the IAF equally trusts the indigenous equipment," says Singh.
The LCH has been in development for several years, with the IAF taking its first example in November 2021.
In March, New Delhi's Cabinet Committee on Security approved the acquisition of 15 LCHs at a cost of Rs38.9 billion ($466 million). Of the 15 contracted LCHs, 10 will serve with the IAF and five with the Indian Army. The total requirement for the type is 160 examples.
HAL has said that the LCH had its genesis in the 1999 Kargil conflict with Pakistan, which highlighted the necessity of an attack helicopter that can operate at high altitudes. Design and development of the new helicopter was sanctioned in 2006, and the Indian army signed on in December 2013.
The LCH is designed with a twin-tandem cockpit, a bearingless tail rotor, glass cockpit, 20mm gun in a chin turret, 70mm rockets, MBDA Mistral anti-tank missiles, and an electro-optical/infrared targeting pod. Survivability features include ballistic protection and other measures intended to minimise its visual, aural, radar and infrared signatures.