India's air force has received its first Hindustan Aeronautics (HAL) Light Combat Helicopter (LCH), in a ceremony to mark India's 75th year of independence.
The 5.8t rotorcraft was handed over by prime minister Narendra Modi, says HAL.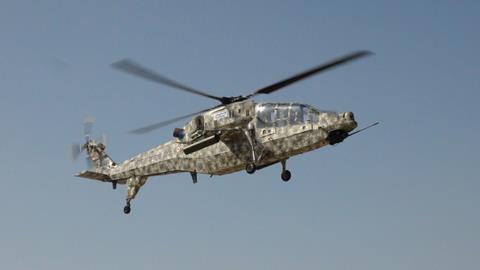 "HAL has proactively initiated advance action toward launching the production activities of 15 LCH [limited series production aircraft] with internal funding," the company says.
"Material procurement for all the 15 helicopters has been completed. Three helicopters are ready for delivery to users and the balance helicopters are in the advanced stage of production."
New Delhi cleared the acquisition of the 15 rotorcraft – 10 for the air force and five for the army – earlier this year. Media reports, however, suggest that HAL has yet to receive a government contract.
Despite this, HAL says it is making plans for the full production run of LCHs, which it says will amount to 160 examples.
According to HAL, the LCH had its genesis in the 1999 Kargil conflict with Pakistan, which highlighted the necessity of an attack helicopter that can operate at high altitudes. Design and development of the new helicopter was sanctioned in 2006, and the Indian army signed on in December 2013, leading to the requirement for 160 LCHs.
The type has received initial operational clearance from both the army and air force.
In mid-2020, a pair of LCHs was dispatched to India's Leh base in the Himalayas for high-altitude work. At the time, HAL said the LCH can carry an "adequate" weapons load out at high altitudes and under various conditions.
The LCH is designed with a twin-tandem cockpit, a bearingless tail rotor, glass cockpit, 20mm gun in a chin turret, 70mm rockets, MBDA Mistral anti-tank missiles, and an electro-optical/infrared targeting pod. Survivability features include ballistic protection and other measures intended to minimise its visual, aural, radar and infrared signatures.