The Indian Coast Guard has inducted its first squadron of Hindustan Aeronautics Advanced Light Helicopter (ALH) Dhruv MKIII rotorcraft, to serve in the search and rescue (SAR) mission.
The commissioning of 835 Sqn. Took place at Porbandar on India's northwest coast, says India's defence ministry.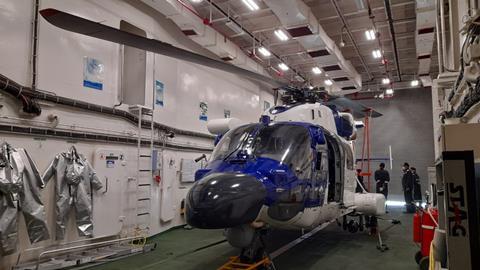 Thirteen ALH MkIIIs have been inducted into India's coast guard and have so far flown over 1,200h. In addition to "numerous operational missions" the rotorcraft has also successfully operated its maiden search and rescue SAR mission at night.
Equipment aboard the indigenously produced helicopter includes a search radar, electro-optical sensors, a high-intensity search light, and a SAR homer.
"The features enable them to undertake maritime reconnaissance as well as carry out SAR at extended ranges even while operating from ships during both day and night," says India's defence ministry.
"The aircraft has the ability to switch roles from an offensive platform with [a] heavy machine gun to that of a benign one carrying a medical intensive care unit to facilitate transfer of critically ill patients."
In early 2021 the coast guard conducted trials with the type aboard an Indian Coast Guard ship at sea. The work involved flight operations to the ship in addition to deck handing activities.
The rotorcraft's blades were folded for storage in the ship's hangar, where maintenance was performed while the vessel was underway. In addition, the rotorcraft underwent hot refuelling with its engines running.
Cirium fleets data lists 347 Dhruv helicopters in service. The main operator is the Indian Army, with 191 in-service Dhruvs, followed by the air force with 107.
Overall, HAL's orderbook for the type comes to 11 examples.