Indonesian Aerospace (PTDI) and Lockheed Martin's Sikorsky unit have entered a partnership to pursue the possible sale of up to 24 S-70M Black Hawk helicopters to the Southeast Asian nation.
The pact was signed during a visit to the USA by Indonesian defence minister Prabowo Subianto, says Indonesia's ministry of defence.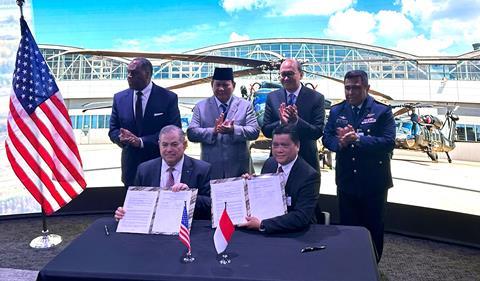 "This agreement demonstrates our mutual interest with PTDI to provide S-70M Black Hawk helicopters to serve Indonesia's security needs," says Jeff White, vice-president of global business development at Sikorsky.
"The Black Hawk is designed and built to the toughest military standards, and it can quickly and reliably deliver personnel and supplies to geographically dispersed populations across a large archipelagic area such as Indonesia."
Should an Indonesian Black Hawk sale materialise, Lockheed indicates it will involve international production of the type at its PZL Mielec unit in Poland, a facility that has already supplied Black Hawks to the Philippines.
"We are confident that this strategic cooperation between PTDI and Lockheed Martin will result in added values gained for PTDI's capability in integration, customisation, modification and system upgrade for the helicopter's completion," says Indonesian Aerospace director Gita Amperiawan.
"In addition, with the opportunity to become an official Sikorsky supplier, PTDI will also be able to expand its aerostructures business."
Indonesian Aerospace already has extensive industrial involvement with Sikorsky rivals Airbus Helicopters and Bell.