US and Australian officials are probing the crash of a US Marine Corps (USMC) Bell Boeing MV-22 Osprey tiltrotor during a routine exercise.
The crash occurred on the morning of 27 August, according to the USMC. Of the 23 on board, three personnel were killed and five are being treated for serious injuries.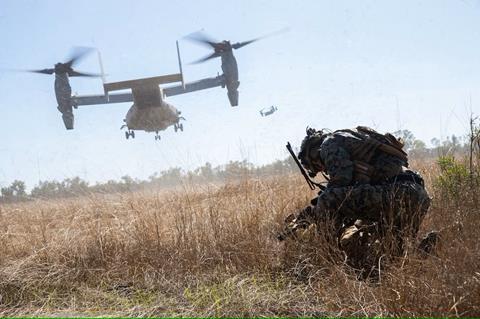 The crash occurred at 09:30 local time on Melville Island, which lies north of Darwin in the Timor Sea. The MV-22 was participating in the Exercise Predators Run event.
In a 29 August television interview, Australian defence minister Richard Marles said that several agencies will be looking into the crash.
"The facts surrounding how the accident occurred are still being investigated," says Marles.
"And obviously, what will now happen is this will trigger a number of investigations which occur in an event of this kind, which I think will also include the United States. And we will work with the US around the jurisdictional basis of the various investigations that occur."
The MV-22 accident came just one month after the fatal crash of an Australian NH Industries MRH90 Taipan in the sea off Queensland. All four crew were killed when the rotorcraft came down in the ocean during Operation Talisman Sabre. MRH90 is the Australian designation for the NH90.
During the television interview, Marles observed that while exercises carry risk, they are essential to ensure readiness and interoperability with allies.
Given the geopolitical challenge presented by China, the USMC maintains a significant presence in Northern Australia.