The Israeli Ministry of Defense (MoD) has signed agreements with the USA to acquire 12 Sikorsky CH-53K heavy-lift helicopters, as well as two Boeing KC-46 tankers.
"The [MoD] Mission to the US signed an agreement (LOA) with the US government for the purchase of 12 Lockheed Martin-Sikorsky helicopters, and an additional agreement for the procurement of two Boeing KC-46 refueling aircraft," said the ministry on 31 December 2021.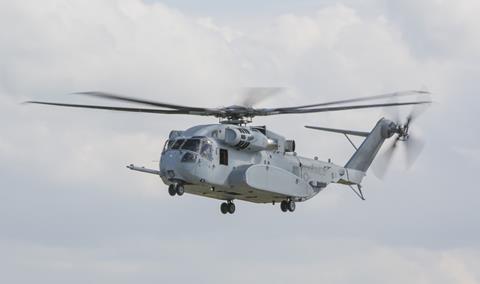 "The procurement of these platforms is part of a wider MoD programme to strengthen the capabilities of the IDF [Israeli Defense Forces] and preparedness to face current and developing threats."
The signing of the formal agreements follows news in 30 November that a CH-53K acquisition for 10-15 examples had been approved.
In February 2021, the three-engined type beat the Boeing CH-47 Chinook in a competition to replace the Israeli air force's fleet of CH-53D Yasur helicopters. According to Cirium fleets data, the average age of the Yasur fleet is 49.9 years.
In February 2021 the MoD signed a letter of acceptance for the two KC-46s, making Israel the second international customer for the 767 derivative after Japan. This followed Washington DC's authorisation for Israel to buy up to eight KC-46s in March 2020.
Israel's primary tanking capability is served by seven KC-707s, with an average age of 46.8 years. In addition, it has four Lockheed Martin KC-130Hs that also serve as tankers, with an average age of 45.5 years.