Italy's defence ministry will next year begin the second phase of a study into the potential for high-speed rotorcraft, as it underlines the need for international collaboration in the field.
In its latest multi-year planning document, approved on 4 August, Rome allocates €129 million ($151 million) to the project over the 12 years beginning in 2022.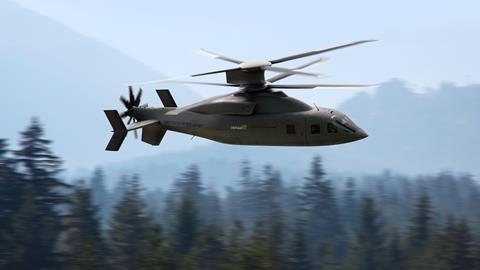 As part of the "Future Fast Rotorcraft initiative", the defence ministry will examine "emerging technologies" in the sector and the possible development of a platform it calls the "Next Generation Fast Helicopter".
This would be based on "advanced and potentially disruptive technological solutions, such as co-axial [rotor] technology [and a] pusher propeller".
Second-phase activities will begin next year, following the finalisation of feasibility studies into the ongoing development of "enabling technologies", the document states. That will include "researching appropriate synergies with international programmes" and examination of "operational requirements, costs, timing and risks associated with the initiative".
Italy is, alongside France, Germany, Greece and the UK, leading a NATO project that is seeking to develop a new medium-class helicopter under the Next Generation Rotorcraft Capability effort. But it is also one of several countries that is seeking participation in the USA's Future Vertical Lift (FVL) programme.
Italian manufacturer Leonardo Helicopters has strongly backed tiltrotor technology for high-speed applications, through the development of its AW609 platform. While this has largely been pitched for civilian applications, the airframer also markets it for special operations, personnel recovery and homeland security missions.
However, the company has strong historic links with US airframers Bell and Sikorsky, which are both competitors in FVL.
Italy's defence ministry says that as the country is a "leader" in the helicopter sector, its industry will have to know how to exploit the technology for maximum benefit "possibly also by exploiting synergies deriving from targeted international co-operation".
While applications for high-speed technology have so far focussed on assault or scout helicopters, Italy has previously expressed an interest in using it for the AW249 attack helicopter being developed for its army.
"The army is also studying the possibility of implementing on the machine the future fast rotorcraft technologies being developed as part of other international programmes," the service says.