The US Marine Corps (USMC) declared initial operating capability (IOC) for the AGM-179A Joint Air-to-Ground Missile (JAGM) on the Bell AH-1Z attack helicopter effective from 1 March.
The declaration marks the successful completion of an initial test and evaluation period that involved tests off the coast of Florida in November 2021 and in Arizona during December 2021.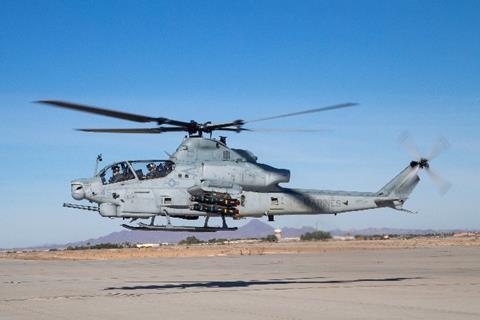 "IOC marks a major milestone for the JAGM programme and significant increase in capability for the AH-1Z," says commander J. Reid Adams, deputy programme manager for precision-guided missiles at the US Naval Air Systems Command.
"This accomplishment is a true testament of the tireless efforts made by so many across DoD and our industry partners to support the warfighter."
The IOC included the delivery of missiles, training and support equipment to Marine Light Attack Helicopter Squadron 267. This supports an upcoming deployment with the 13th Marine Expeditionary Unit.
Produced by Lockheed Martin, JAGM will replace AGM-114 Hellfire missiles in service with the US Army and USMC.
The new weapon is guided to targets with a semi‑active laser and millimetre-wave radar.
The dual-seeker configuration helps the missile navigate through low-visibility conditions such as smoke or dust. The millimetre-wave radar also allows JAGM to find targets autonomously.
The work off the coast of Florida last November is particularly relevant as the USMC reorients itself for a potential conflict with China, which would likely involve littoral operations against ships.