Russian Helicopters has unveiled an upgraded variant of the Kamov Ka-226T light-twin at the MAKS air show.
Dubbed the "Climber", the new model gains a higher maximum speed, lower empty weight, improved payload, and greater range over previous versions.
Figures presented on a hoarding next to the prototype at MAKS indicate that that maximum speed rises to 134kt (250km/h), up from 118kt; range grows to 302nm (560km), increasing from 260nm; while payload for the 3.6t helicopter rises to 1,000kg (2,204lb), up from 785kg.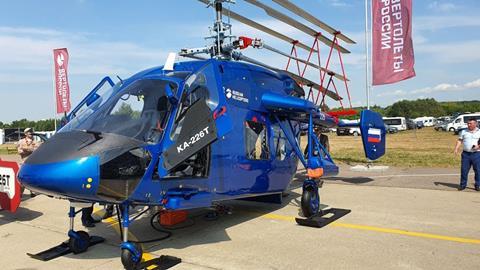 Weight has been stripped from the airframe through the use of lighter materials, while the flight-control and power systems have been updated, says the manufacturer.
Larger fuel tanks have been added and a crash-resistant fuel system is also included. Avionics and other systems have also been enhanced.
The Climber can operate up to an altitude of 21,300ft – up from 21,000ft previously – and can be equipped with supplemental oxygen if needed.
Tests using the prototype on display at MAKS are due to begin this autumn. Russian Helicopters expects serial production to begin in 2022 at the Ulan-Ude Aviation Plant.
At present, power comes from twin Safran Arrius 2G1 powerplants, although Russia's United Engine is developing the Klimov VK-650V as a domestic alternative.