Korea Aerospace Industries (KAI) has entered an agreement for the development of manned-unmanned teaming (MUM-T) for the Light Armed Helicopter (LAH).
The agreement with South Korea's Defense Technology Promotion Research Institute will facilitate the development of "manned and unmanned autonomous cooperation and decision support system technology" for the LAH and unmanned air vehicles (UAVs), says KAI.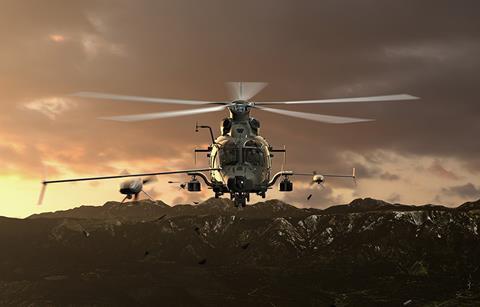 The technology to be incorporated is aimed at improving the LAH's situational awareness through tight integration with UAVs. Using artificial intelligence, the system will detect changes in the battlefield, which can improve a pilot's decision making.
KAI says it has already performed MUM-T trial work using a KUH-1 Surion helicopter, following an October 2021 rapid development contract from Seoul's Defense Acquisition Program Administration.
At the that time, it said MUM-T would be integrated into both the LAH and Surion, including the development of small scout UAVs deployed from helicopter-mounted canisters.
In a 2020 promotional video, a LAH is depicted launching four UAVs. In addition to locating an enemy air defence radar, one of the UAVs performs the role of a loitering munition, attacking and destroying a high-threat enemy vehicle carrying surface-to-air missiles.
On 28 November, Seoul's Defense Program Promotion Committee approved the mass production of the LAH.
Separately, KAI recently announced that it secured an order from Seoul's Public Procurement Service to provide two Surions equipped for forest firefighting duties.
The W49.8 billion ($38.4 million) contract includes the two helicopters as well as spares, support equipment, and services.
"Despite competition with foreign models, we were able to sign the contract because of the [Surion's] excellent performance and perfect mission capability," says KAI.
Overall, KAI says that in 2022 it has secured orders for six Surions equipped for parapublic missions. The recent order will bring the number of Surions deployed for domestic parapublic missions to 26.