Korea Aerospace Industries (KAI) has secured a government contract to rapidly develop and demonstrate a manned-unmanned teaming (MUM-T) application with its KUH-1 Surion helicopter.
The Defense Acquisition Program Administration (DAPA) programme is worth W4 billion ($3.4 million), says KAI.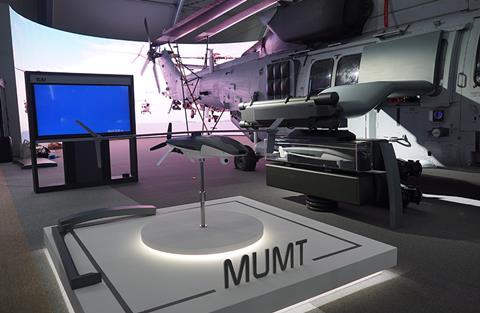 The project will run from this month to December 2022. It will see a Surion operate and receive information from an unmanned air vehicle (UAV).
"The 'helicopter-unmanned aerial vehicle linkage system project' aims to build an unmanned complex system that expands the operational radius of remote reconnaissance and strike by directly controlling the drone from the helicopter and providing the drone image information to the pilot in real time," says KAI.
Following this project, KAI says it aims to integrate MUM-T capabilities into both the Surion and the Light Armed Helicopter, specifically a canister that can deploy loitering munitions.
"As the future scalability of MUM-T technology is great, we will establish a cooperative structure with the government, industry, academia, and research institutes and complete the Korean MUM-T system through continuous research," says a KAI official.
Recent promotional videos from KAI have shown manned platforms such as the developmental KF-21 fighter, the Surion, and LAH cooperating with unmanned systems.
At the recent Seoul ADEX show, KAI's stand had a mock-up of a Surion optimised for amphibious assault missions, as well as MUM-T application. The helicopter was depicted with a pylon-mounted launcher for four loitering munitions.