Korea Aerospace Industries (KAI) has secured an order for two additional KUH-1CG "Whitesuri" helicopters from Seoul for coast guard use.
The deal is worth W49.7 billion ($42 million) and covers the fourth and fifth examples of the Surion variant that the service is taking, says KAI.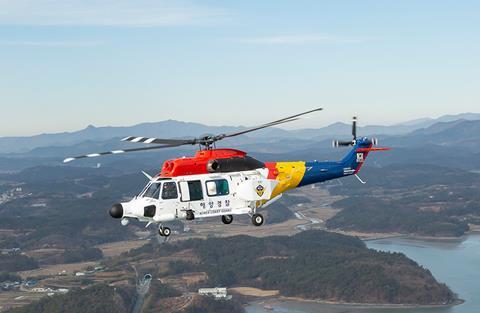 The rotorcraft will be delivered by July 2024.
According to KAI, the KUH-1CG is optimised for maritime security missions as well as search and rescue.
It is equipped with Leonardo's Osprey 30 active electronically scanned array radar, which KAI says allows the KUH-1CG to detect up to 1,000 targets at the same time.
It also has an electro-optical/infrared camera, a hoist, and a searchlight.
It notes that the first KUH-1G has performed well operating from South Korea's Jeju Island, including the rescue of five sailors in February.
Cirium fleets data suggests that the Republic of South Korea Coast Guard operates 25 helicopters and fixed wing aircraft.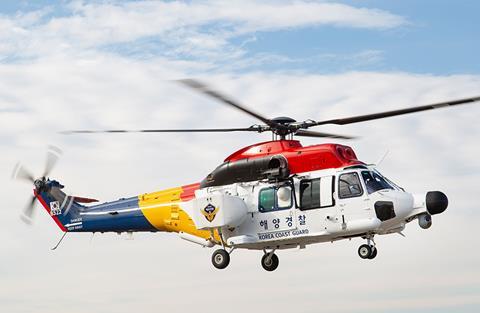 KAI estimates that 40% of the coast guard fleet is obsolete, and therefore ripe for replacement.
Older types include eight Kamov KA-32s that are an average of 24.3 years old, and a Bell 412 that is 31.9 years old.
There are 133 Surion-based helicopters in service in South Korea. The Korean army is the largest operator with 100 examples, followed by the South Korean marines with 17.
Parapublic operators comprise the Korea National Police Agency (eight), coast guard (two), South Korean Forestry Aviation (one) and Jeju Fire Safety Division (one). In addition, KAI itself is listed as operating four examples.