Korea Aerospace Industries (KAI) continues work to develop its Light Civil Helicopter (LCH) and Light Armed Helicopter (LAH).
Two rotorcraft are involved in the LCH test campaign, says KAI. Following a maiden flight in late 2019, the LCH received its European Union Aviation Safety Agency amended type certification in October 2020, and 65% of the work necessary for its supplemental type certification has been completed.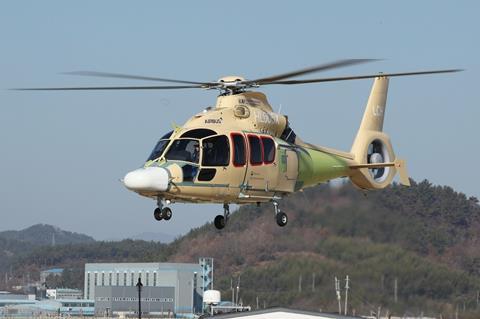 The LCH has yet to receive any orders, with KAI and Airbus Helicopters aiming to work together to market the type. The LCH/LAH is based on the Airbus Helicopters 4.5t H155.
The LAH, meanwhile, received its 'Potential Combat Suitability' certification in December 2020, with test flights planned to run until September 2022. So far, the helicopter's 20mm cannon and 70mm rockets have been integrated, with both weapons synched to the helicopter's target acquisition designation sight.
System tests with air-to-ground missiles will be done by the first half of 2022, says KAI. The type will eventually replace rotorcraft such as the MD Helicopters MD500 and Bell AH-1S in service with the South Korean army. KAI also hopes to sell the LAH overseas.
Separately, KAI is in the process of delivering the 140th KUH-1 Surion to the South Korean army. The company has also delivered 14 MUH-1 Marineon versions to the country's marines, and the country's armed forces have taken delivery of eight medevac versions.
The company plans to deliver 70 additional KUH-1s and 14 more MUH-1s "until 2023".
Deliveries of the Surion's parapublic derivatives continue to the country's police, coast guard, and local fire departments.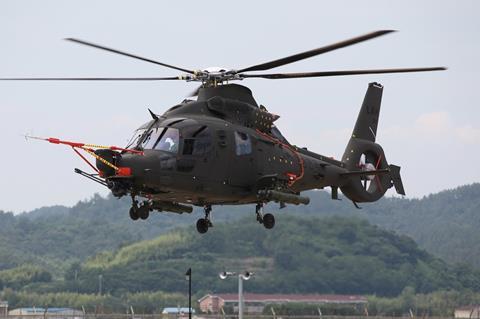 KAI has progressed with work to develop the Surion into a helicopter gunship. It has plans to equip the helicopter with rockets, air-to-ground missiles, air-to-air missiles, as well as a chin-mounted cannon.
At the 2019 Seoul ADEX show, KAI revealed that it was conducting feasibility studies into armament options for the Surion.
In addition to local requirements for attack helicopters, it sees an opportunity to sell armed Surions overseas. It notes that militaries in Southeast Asia have a particular interest in utility helicopters that can also carry precision weapons.
"The ultimate goal of armed variants is to become genuine utility helicopter ranging from convoy to kinetic attack," says KAI.
To complement the LAH and Surion, KAI is developing its concept of manned/unmanned teaming. It recently signed memoranda of understandings with Elbit Systems and Israel Aerospace Industries, with the latter related to loitering munitions.
In a promotional video, KAI advertises the KAH using loitering munitions to identify and attack targets, while a Surion deploys a drone swarm to assist a combat search and rescue mission.