Kopter is progressing with tests of its AW09 light-single in a new aerodynamically improved configuration and will also test new main rotor blades in the new year, but there is continued uncertainty about when it may gain certification.
Switzerland-based Kopter – a part of Leonardo Helicopters since 2020 – on 8 December revealed that the third AW09 prototype has now been fitted with new upper cowlings "as part of aerodynamic improvements of the type certification design".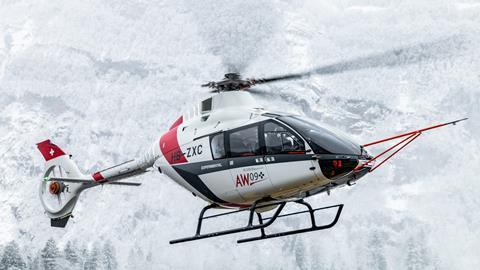 It is the latest evolution of the helicopter which has seen many aspects of the original design change, including the rotor mast, flight controls and fuselage aerodynamics.
"All of these modifications are aimed at improving the aircraft performance, handling qualities and comfort," it says.
"The new cowlings bring the aircraft closer to its final certification shape. All developments implemented this year on [aircraft] P3 delivered the expected results. We expect minor [future] evolutions at this stage."
In addition, in 2022 aircraft P3 will begin flying with redesigned higher performance rotor blades; these are currently being tested on a whirl tower rig.
But there remains little clarity on when the AW09 might achieve European Union Aviation Safety Agency approval.
Speaking to FlightGlobal during November's Dubai air show, Leonardo Helicopters managing director Gian Piero Cutillo declined to be drawn on whether certification might occur in 2022.
"We will see. As you know we found some difficulties – it was a bit more complex than we found in the early assessment," he says.
"But we are now more focused on getting the product that we promised in terms of weight, cost and performance rather than being one year or six months before. Nonetheless, we are happy with the progress we are making."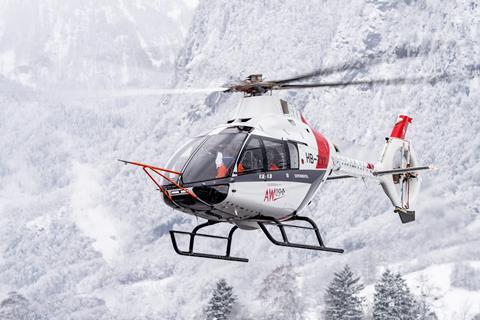 There has been some progress in that respect, with EASA conducting a series of familiarisation flights on the AW09 in early October, says Kopter.
Cutillo says Kopter is now fully integrated into Leonardo Helicopters' division, but has been given a degree of autonomy. "It is their project, we are trying to help only where we have some specific experience," he says.
He highlights the required redesign of the AW09's main rotor blades to ensure they were "competitive and offered the expected performance improvements".
That process was a good example of the advantages of the integration, he says, with Kopter able to leverage the deep blade design expertise of Leonardo Helicopters in Italy and the UK.
"The reality continues to be different to what we planned in the beginning but we are happy that we are proceeding and day after day we are really confident that we are on the right track."
Two pre-serial AW09s will join the test fleet next year, with aircraft PS4 due to start flying in 2022, shortly followed by PS5, the company says.