Kopter has reaffirmed that its SH09 light single-engined helicopter will now enter service in late 2022 at the earliest, following the Swiss firm's integration into Leonardo after its acquisition last year.
In addition, Kopter has confirmed that the SH09's primary production line will be at Leonardo's plant in Vergiate, Italy, while the location of a US assembly facility is still under review.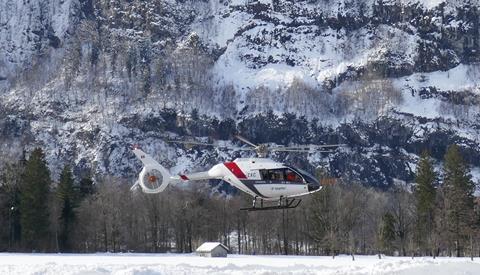 Marco Viola, who was appointed as Kopter chief executive last year following the departure of Andreas Lowenstein, says that based on the latest upgrades to the helicopter and its progress in flight testing, service entry will occur in late 2022 or early 2023.
"We don't see any kind of difficult perspective at the moment based on the current progress of activities," he says.
Prior to Leonardo's $185 million takeover, completed in April last year, service entry was expected in 2021.
Flight testing is taking place at Kopter's base in Mollis, Switzerland, with the current P3 prototype having returned from its former test site in Pozzallo, Sicily in 2020.
An extensive retrofit of the helicopter took place late last year, adding an upgraded main gearbox, enhanced rotor mast – controls are now on the exterior of the structure – and a new Garmin G3000H avionics suite. Aerodynamic tweaks were also made to improve the SH09's handing, says Michele Riccobono, chief technology officer.
He says the change to the mast architecture was driven by concerns around the ease of access to the controls. "We realised almost immediately that from a maintenance standpoint the burden would have been significant. Any kind of maintenance activity or inspection would have been quite complex," he says.
As of early March, around 25h had been accumulated on the upgraded helicopter across 35 sorties.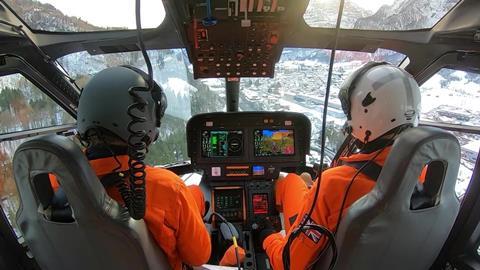 "I would say we are very, very happy with what we are seeing. The aircraft has made significant improvements in all areas of the controllability, handling and performance," says Riccobono.
"We are really happy with the progress we are making."
Viola confirms that final assembly of the SH09 will take place in Vergiate, where Leonardo builds the majority of its civil helicopters; it is about "leveraging the assets we have", he says.
Leonardo is "still evaluating" its strategy for the US market, however. An agreement struck prior to the acquisition foresaw the creation of a final assembly line in Lafayette, Louisiana, but Viola notes the Italian company's "really strong industrial presence in Philadelphia", where it builds AW119s and AW139s, and will in future assemble the AW609 tiltrotor.
"At the moment what is sure is that we will have a final assembly line in Italy. We will have another in the US but that is still to be in some way defined," he says.
Additional production sites to address other geographies, Asia, for example, will depend on "requests from the market".
A separate pact with Korea Aerospace Industries to explore co-operation on the SH09 remains in place, however. "We are still assessing in this case the best way forward with the Korean authorities," says Viola.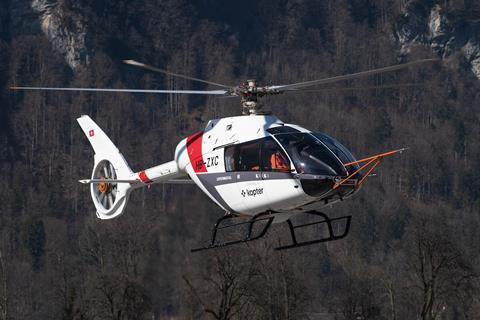 Mollis, which was to serve as Kopter's European production hub, will "remain a plant with a clear prototype manufacturing mission", says Viola, as part of Leonardo's strategy to use the Swiss business as a "centre of excellence for light helicopters".
Kopter has its headquarters in Wetzikon, near Zurich, plus an additional subsidiary near Ottobrunn in Germany.
Viola says that the company is seen as an "incubator for new technology and technical skills", and will also be responsible for the future evolution of the SH09.
In addition, the German unit is already working on issues around hybridisation and electrification, he says, which will be married with Leonardo's research on the topic "to define what will be the future of this hybrid concept".
Riccobono says the hybridisation of the SH09 has long been under consideration; Kopter in 2018 filed a patent application for a "rotary-wing aircraft with an electric drive system for the main and/or tail rotor".
In that particular application, in addition to a standard gas turbine Kopter envisages the use of an electric ring motor which is arranged coaxially to the rotor mast. However, Riccobono says that the company has now moved on from that design.
But he stresses that the design of the main gearbox is key to any future hybridisation of the platform, as it makes integration of any new propulsion system "easier to do".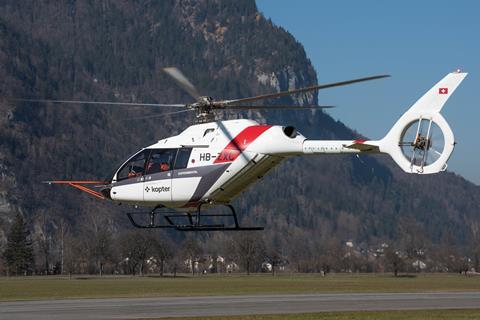 In the near-term, however, Kopter continues to work on the two pre-serial (PS) helicopters that will be the "main workhorses" for the certification campaign.
Aircraft PS4 is currently in assembly and should join the test flight in the third quarter of this year; PS5 is "tracking three to four months behind", says Riccobono.
Initial approval will be of a baseline helicopter capable of reaching 16,000ft with a maximum take-off weight of 2,850kg (6,280lb), he says. Further capabilities such as cold weather and hot-and-high performance will be added progressively and a four-axis autopilot also remains on the product road map.
Save for further aerodynamic tweaks, there will be no significant changes between aircraft P3 and PS4, Riccobono adds.
Viola declines to say whether Leonardo has added to the SH09's backlog since the acquisition. That stood at around 70 orders – previously viewed as equivalent to three years' of production.
Instead, he says, the focus has been on securing distributor agreements in "all the key market areas" and ensuring that the SH09 is ready for service entry.
The emphasis, he says, has been on maturing the helicopter, "not on selling more and more".
However, Viola says that feedback from its commercial teams is that the "market is absolutely confirming its trust in Kopter" which "increased significantly after the acquisition".
An analysis of the supply chain to ensure it can meet the planned ramp up is ongoing, he adds.