Leonardo and Northrop Grumman intend to combine forces in the market for rotary-wing unmanned air systems (RWUAS), with the partners already working on several new designs.
Unveiled at DSEI on 15 September, the partnering agreement will see the pair "consider collaboration" in areas including "air vehicle design, system architectures, payload optimisation and the integration within next-generation battlespace architectures".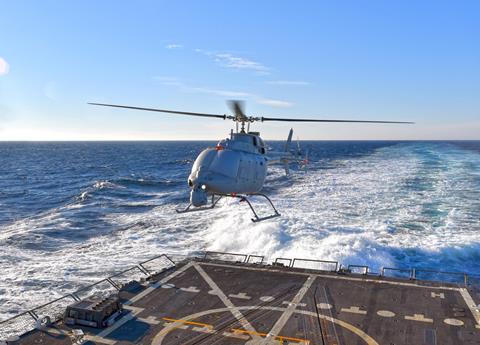 Nick Chaffey, chief executive of UK, Europe and Middle East for Northrop Grumman, says the pair are "already talking to customers about their requirements".
However, the pace of development will be dictated by how quickly procurements progress. "We have different designs sitting on the table now," he says.
Crucially, the agreement has a broad scope, covering both current and all-new platforms.
"Clearly we have products in both portfolios at the moment that would benefit from joint technology. We are also working on products that are not yet in the public sphere. There is absolutely potential for a clean-sheet design," says Steve Allen, vice-president of strategy and innovation at Leonardo Helicopters UK.
The two companies are already working together in the sector, having proposed the 200kg (440lb)-class AWHero, combined with elements of Northrop's battlespace architecture, for the Royal Australian Navy's Project SEA129 requirement seeking a deployable intelligence, surveillance and reconnaissance system.
Nick Whitney, managing director of Leonardo Helicopters UK, argues that the AWHero will be further strengthened by the new agreement.
"The two companies coming together in a strategic manner can offer an enhancement of that system," he says. "It gives us the option to accelerate development," adds Allen.
Meanwhile, Northrop will continue its ongoing attempts to sell the MQ-8C Fire Scout, an unmanned surveillance platform for the US Navy based on the Bell 407, which is gaining Leonardo's Osprey radar.
Although Leonardo Helicopters' expertise clearly lies in rotary-wing platforms and Northrop's in autonomous systems and integration, there is no guarantee future projects would be split along those lines.
"For each individual case there are individual government requirements – we can vary the workshare between the companies," says Allen.
With both partners already able to deliver a complete RWUAS on their own, there are questions about the need for such a collaboration.
But Allen sees enormous benefits from the agreement. "For me it's pretty simple and straightforward. We can do it just like [Northrop Grumman] can do it themselves, but as a partnership we are more powerful, can develop things quicker, grow the capability, and aim to be the best.
"In essence, we can drive the market rather than following it."