Leonardo Helicopters is gearing up for a first flight of the AW249 attack helicopter it is developing for the Italian army, with the initial prototype substantially complete.
Stefano Villanti, senior vice-president of sales at the manufacturer, says development of the AW249 has been "progressing like clockwork" against the customer's timeline.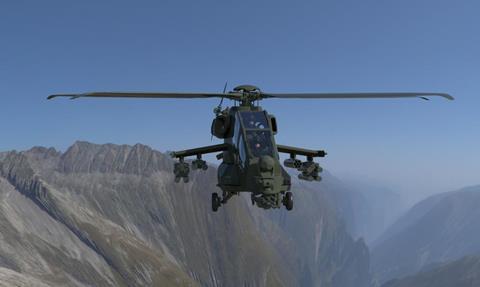 Villanti, speaking at a pre-Farnborough air show briefing, said the first flight will take place "in the next few months", likely September.
Ground runs of the first aircraft have yet to take place, with Villanti describing the aircraft as being "in an advanced stage of assembly".
A second prototype will follow hot on the heels of the first, he indicates.
Powered by twin GE Aviation CT7 engines, each rated at 2,500hp (1,860kW), and using the dynamic components from the AW149 transport, the AW249 will have a maximum take-off weight of around 8t. It will be armed with a 20mm chin gun, guided and unguided rockets, and air-to-air and air-to-surface missiles.
Designed as a successor to the Italian army's current AW129D Mangusta fleet, Leonardo was awarded a development contract in 2017 covering production of a total of five aircraft.
Italy projects an eventual requirement for 48 helicopters, with the Mangusta to be retired from 2025.

Dominic Perry is deputy editor of Flight International but also contributes extensively to flightglobal.com. Although specialising in the coverage of the helicopter industry, he has written on most topics in aerospace – be they commercial, defence or business aviation. In addition, there has been an increasing focus on the decarbonisation of the industry and zero-emission flight initiatives.
View full Profile