Leonardo Helicopters is presenting its skid-equipped AW169 at the Dubai air show, fresh from announcing a pair of performance upgrade kits for the intermediate-twin.
On 30 October, the Italian airframer revealed an optional 300kg (660lb) increase in maximum take-off weight for the AW169, to 5.1t, alongside a new 11-passenger configuration for oil and gas operations.
Both are only available on the skid-equipped variant, and the 11-seat layout can only be implemented alongside the increased gross weight (IGW) kit.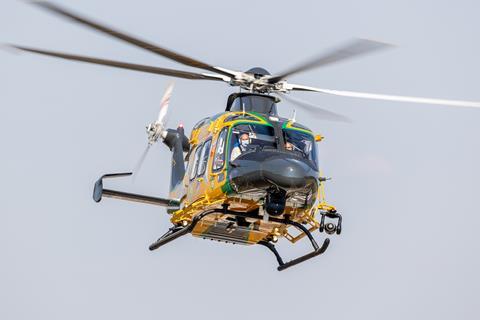 With the upgrade, the helicopter is capable of matching the capabilities of larger legacy types such as the Airbus Helicopters AS365/H155 Dauphin and the Bell 212/412, says Ricardo Ronchini, product marketing specialist for the AW169.
"It brings the performance closer to helicopters in a bigger class," he says.
While the 11-passenger oil and gas version loses around 60nm (111km) of range due to lower fuel capacity, that range reduction is "not relevant" for most oil and gas missions, says Ronchini.
Certification for the IGW kit is due in late 2024, while approval for the new offshore version is scheduled for the end of 2026, "but it is still under development so this date could change".
A new avionics standard is also under development, although Ronchini declines to say when the Phase 9 software release might be certificated or the new features it will offer.
The AW169 shown at Dubai is operated by Italy's Guardia di Finanza and will remain in the UAE after the show to conduct demonstration flights for undisclosed potential customers. Leonardo's previous sales in the region comrpise deals with Abu Dhabi-based Falcon Aviation Services and Abu Dhabi Aviation.
Deliveries recently crept past the 169-unit milestone, with the 170th example handed over. Leonardo has taken 330 orders for the AW169, including from Italy and Austria for the military M model.
Leonardo is additionally working on weapons integration for the AW169M for an undisclosed customer, thought to be Austria.

Dominic Perry is deputy editor of Flight International but also contributes extensively to flightglobal.com. Although specialising in the coverage of the helicopter industry, he has written on most topics in aerospace – be they commercial, defence or business aviation. In addition, there has been an increasing focus on the decarbonisation of the industry and zero-emission flight initiatives.
View full Profile