Leonardo Helicopters has delivered the first of an eventual 130 TH-73A trainers to the US Navy at a ceremony held at the manufacturer's Philadelphia production site.
The airframer has so far received 68 orders via two fixed-price contracts worth $177 million and $171 million, placed in January and November 2020, respectively.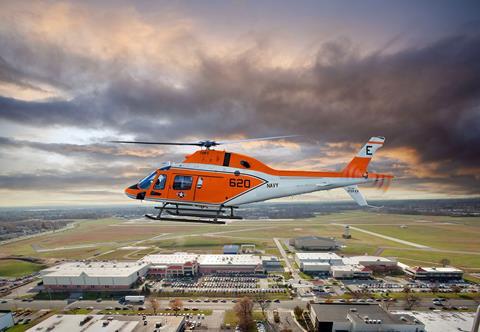 Deliveries of all 130 examples are due to conclude in 2024, with the total programme of record worth $648 million.
Based on the commercial AW119Kx light-single, the TH-73A will replace the navy's current fleet of aged Bell TH-57B/C Sea Rangers.
Powered by a single Pratt & Whitney Canada PT6 engine, the TH-73A is qualified for instrument flight rules operations. It will be in service until 2050, says the airframer.
Leonardo Helicopters is constructing a new support centre at Whiting Aviation Park in Florida, located adjacent to the TH-73A fleet's base at NAS Whiting Field.